Paris > Sightseeing > RER to Versailles
RER 'C' Train to Versailles
Paris RER commuter trains offer frequent service to the Versailles Château Rive Gauche station, which is only a short walk from the palace and gardens.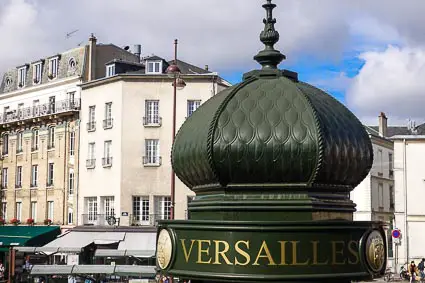 ABOVE: As you leave the station, you'll find yourself in downtown Versailles. From here, it's a quick walk to the Château de Versailles.
Versailles is a popular excursion for tourists in Paris. Many visitors buy expensive bus tours and let themselves be herded around at the former royal palace and gardens. A much better option, in our opinion, is to take the RER "C" train from Paris to Versailles.
After you get off the train, it's only about a 10-minute walk to the Château de Versailles, and you can spend the day enjoying the palace and grounds without being rushed.
How to make the trip:
---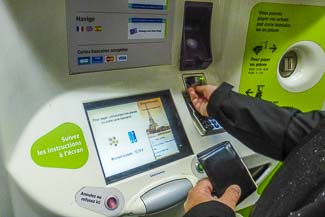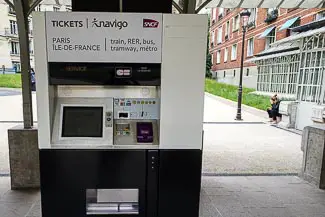 1. Go to any Métro or RER station in Paris and use the ticket machine to buy a roundtrip fare to Versailles Château Rive Gauche. The machine will print two separate tickets: one for the outbound trip, and another for the return. (The ticket machines are multilingual, and you can pay by credit card.)
You can skip this step if you have a Paris Visite, Navigo, or Mobilis pass that's valid for zones 1-4.
---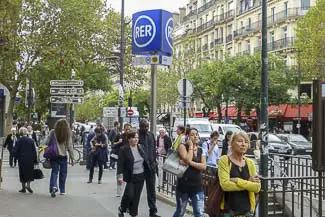 2. Using the Métro or RER (or walking, if it's more convenient), go to any station of RER Ligne C.
Popular "C" line stations in central Paris include St-Michel (near Notre Dame), Musée d'Orsay, Invalides, Pont de l'Alma, and Champs de Mars - Tour Eiffel.
Note:
If you're coming from northern Paris on Line C1, you'll need to change trains at Champs de Mars - Tour Eiffel.

Be sure to save your ticket for use in the Versailles Rive Gauche exit turnstiles and, in some stations, for changing between the Métro and the RER.
---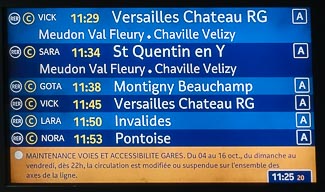 3. Check the station monitor for "VICK" trains to Versaille Chateau RG and go to the platform indicated.
---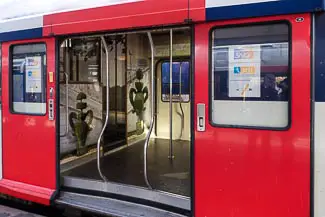 4. Board the train when it arrives.
---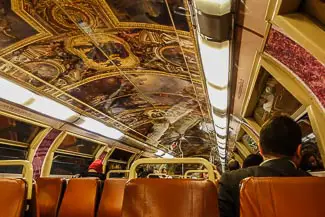 5. Settle in for the trip. If you're lucky, you'll be on a train with a decorated ceiling that gives you a foretaste of the palace at Versailles.
---

6. After 45 minutes or so, you'll arrive at the Château Rive Gauche station in Versailles. (Exact travel time will depend on where you boarded the train.)
Exit through the turnstiles, using your ticket, and leave the station. Follow the signs and the crowd to the Château, a.k.a. the palace and gardens.
Other trains to Versailles:
SNCF, the French national railway, has two train services between Paris and Versailles:
Gare Montparnasse to Versaille Chantiers station (18-minute walk to the palace)

Gare Saint-Lazare to Versailles Rive Droite station (17-minute walk to the palace)
You can check SNCF train schedules here, using the SNCF Transilien journey planner.
Versailles visitor information:
See the palace's official Web English-language site at en.chateauversailles.fr.
---
---