Paris > Book reviews > Through the Windows of Paris
Through the Windows of Paris:
Fifty Unique Shops
Book Review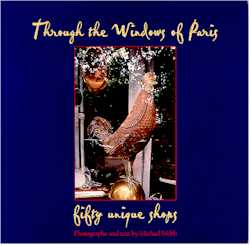 Through the Windows of Paris:
Fifty Unique Shops
Photos and Text by Michael Webb
Balcony Press (Dist: Princeton Architectural Press)
Paperback, 132 pages
ISBN 1-890449-02-4
---
Paris has long been a magnet for shoppers. Whether you're looking for haute couture or hot croissants, you're likely to find a cornucopia of choices in a city where the essence of France is expressed through the expenditure of euros.
With diversity comes a challenge, however: Where do you find unusual or interesting shops amid the clutter of Parisian retail outlets? One solution is to read Michael Webb's Through the Windows of Paris: Fifty Unique Shops, a handsome book of photos and store descriptions from Balcony Press.
In his introduction, Webb writes:
"You, dear reader, probably love to shop. I confess I used to regard it as a disagreeable chore, and I entered these boutiques in mortal fear that I should make some extravagant purchase or be thrown out for merely browsing. Instead, I was welcomed and invited to linger and chat. Most of the owners I met felt they were performing a labor of love. They cared passionately about the authenticity of what they sold, and were eager to tell me how it was made or where they had found it. My French improved dramatically, and I was enjoying my free lessons in French civilization.

"The one unpleasant experience in a month of showing up unannounced with my camera was at Ladurée, the tea room-patissérie on the Rue Royale. A white-coated member of the staff ran towards me, accusing me of sneaking a picture from the sidewalk and--discovering I was born in England--screamed "vache follé! vache follé" (mad cow! mad cow!). It semed a small annoyance among so many rewarding encounters."
Webb goes on to explain the criteria behind his shop selections:
"Reluctantly I omitted some legendary names: Hermès, Louis Vuitton, and the haute coutoure are decidedly French, but they have become multi-national corporations that sell the same goods in the same manner, from London to Tokyo....I looked for emporia that had been around for a long time--355 years in one case--or which had recently decided to buck the trend towards profitability by embracing some eccentric specialty."
The shops in Through the Windows of Paris include bakeries and patisséries, wine merchants, antique stores, clothing boutiques, musical-instrument dealers, art supplies, and more. For a sample of the book's shop profiles, go to the excerpt on the next page. (You'll also find a reproduction of the book's back cover, which you can click to see an enlarged version that shows pictures of seven Parisian storefronts more clearly.)
Our recommendation: Buy Through the Windows of Paris if you're a serious shopper or window-shopper, then carry it with you to Paris or. Better yet, purchase the book and copy the store names, addresses, and business hours into a pocket notebook or onto your smartphone for reference during your trip. That way, you'll have an attractive and unbattered souvenir of your shopping expeditions waiting for you when you get home.
Next page: Excerpt and back-cover photos
---
---
Book cover, photos, and text excerpts:
Copyright © Michael Webb and Balcony Press