Venice > Planning > Destination weddings
A Venice Wedding
Before you tie the knot in Venice, let an expert help you cut the red tape.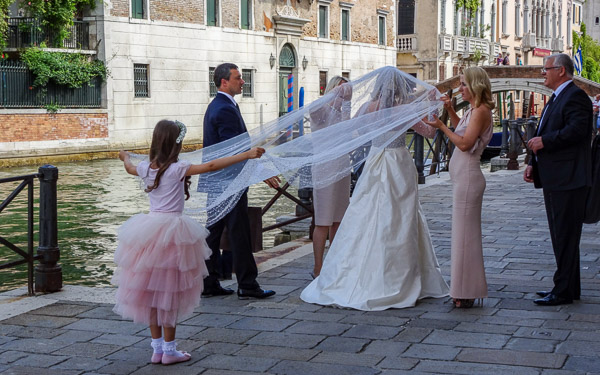 ABOVE: A wedding day in Venice.
---
Many English-speaking couples seem fascinated by the idea of a wedding in Venice. It's true that a Venetian wedding is more romantic than a quick ceremony at Chuckwagon Charlie's Chapel of Love in Reno--or, for that matter, at the Venetian in Las Vegas.
However, the red tape involved can be intimidating if you haven't already had a wedding or two in Italy, and it's important to do your homework before you go. Better yet, hire a professional to arrange the paperwork, ceremony, and reception. The Web links on this page will help you get started on your way to a Venetian altar.
Tips:
Italian weddings typically involve two distinct ceremonies: civil and religious. To avoid legal and bureaucratic hassles, you may want to have the civil ceremony in your home country and the "church blessing" in Italy.

Weddings in Venice don't come cheap. Even a bare-bones civil ceremony at the Palazzo Cavalli ( a.k.a. City Hall) can cost anywhere from €600 to €3500, depending on location, timing and whether you're citizens of the EU.
Ceremonies and services
: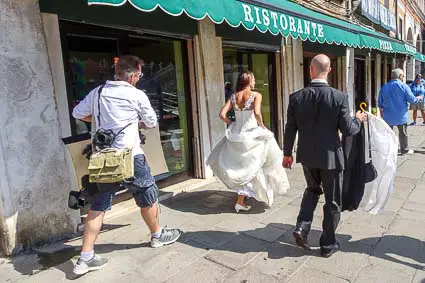 ABOVE: A photographer and a bridal couple walk through the streets of Venice.
A Venice Wedding Guide
Christian and Aurora of Yidaki Studio, a photography and videography service, have put together a directory of recommended wedding and reception venues with estimated costs for each.
Brilliant Wedding Venice
This firm will organize your wedding, reception, and related services. Its Web site includes a price list for civil weddings at the Palazzo Cavalli (near the Rialto Bridge) and other venues.
The Venice Wedding Planner
Anna Bozza, Hélènne Salvadori, and Giovanna Wurmbrand-Stuppach can help you arrange civil and religious ceremonies, receptions, engagement or anniversary celebrations, and more.
Weddings Italy: Venice
Regency San Marino SRL arranges weddings in Italy's most popular cities--including Venice. (The firm has been in the destination-weddings business since 1987.)
Michele Agostinis Photographer
Wedding photography is just one specialty of Michele Agostinis, a Venice-born photographer who spends most of his time in Venice and Vienna. He's also an accredited photojournalist who has worked for Netflix, the Tate Gallery, and many publications in Italy and abroad.
CB Photographer Venice
Carlo Belluoto shoots weddings, proposals, and engagements in Venice, Verona, and other locations in Northern Italy. He's based in Venice, and his work is lovely.
Luca, Wedding Photographer in Venice
Luca Fazzolari takes stunning photos of weddings, honeymoon and anniversary couples, and other visitors who want visual souvenirs of their time in Venice. He even photographs marriage proposals, including surprise proposals. (Luca is fluent in Italian, English, and French, with a smattering of Russian, and you can discuss your needs with him on Skype.)
Venice Wedding and Fashion Photography
Norbert Heyl, the topnotch photographer who illustrated Venice Master Artisans, will shoot your wedding or honeymoon photos in Venice. (He also does fashion and portraits.)
Related article:
Honeymoon in Venice veniceforvisitors.com
Who needs a heart-shaped bathtub in the Poconos when there's a singing gondolier beneath the terrace of your bridal suite?
---
About the author:

Durant Imboden has written about Venice, Italy since 1996. He covered Venice and European travel at About.com for 4-1/2 years before launching Europe for Visitors (including Venice for Visitors) with Cheryl Imboden in 2001.

PC Magazine has called this "the premier visitors' site for Venice, Italy." Over the years, it has helped more than 30 million travelers. For more information, see About our site, our Europe for Visitors press clippings, and our reader testimonials.
---