Venice > Planning > Entry fees for daytrippers
Venice's entry fees for day tourists
Starting in 2024, the city of Venice will begin a congestion-pricing scheme for daytrippers, with a €5 admission tax on peak days.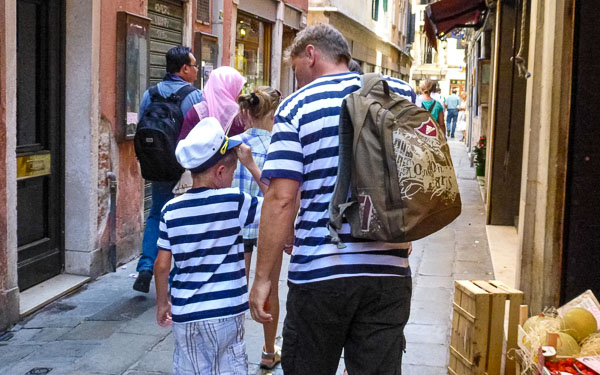 ABOVE: Disguising yourself as a gondolier won't help you escape Venice's tourist tax.
---
Dateline: September 7, 2023
In 2024, Venice will introduce a new tourist tax for daytrippers. (The city already has a tourist tax on occupants of hotels, B&Bs, vacation apartments, and other overnight accommodation.)
The tax will be similar to the congestion-pricing schemes that some municipalities use to discourage drivers of cars, buses, and trucks from entering the city center.
Here's how the plan is supposed to work:
If you're over the age of 14 and you visit Venice on a day when the city is packed with tourists, you'll pay an admission fee of five euros unless you're staying within the municipality.

You'll need to book your visit in advance via a Web site (URL to be announced). A calendar on the Web site will show which days will be subject to the €5,-- tax.

Residents of the Comune di Venezia, owners of second homes in the city, and certain other groups will be exempt from the tax.
Why the admission fee? According to Venice's municipal powers-that-be, the tax is intended to reduce crowding during peak periods (e.g., on summer days, on weekends, and during major events such as Carnival).
We're skeptical about the plan, because we don't think many foreign tourists (or even visitors from elsewhere in Italy) will schedule their vacations around a €5,-- day tax.
Also, the municipality of Venice includes mainland districts such as Mestre and Marghera (where many hotels are located), so most visitors to Venice's crowded historic center won't have to pay the tax anyway.
Finally, we think it's a shame that revenues from the daytripper tax won't be used to fix Venice's inadequate tourist infrastructure. According to CNN, all of the money will go to implementing and administering the tax.
We'd argue that the daytripper-tax scheme is merely a boondoggle to create a few jobs and create the false impression that the city is trying to solve the problem of overtourism. What Venice really needs is more trash bins, toilets, benches, and other public amenities that benefit both tourists and residents.
---
---