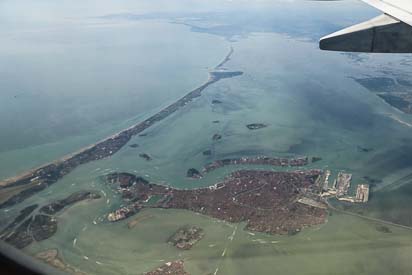 ABOVE: An aerial view of Venice, Italy. The Adriatic Sea is on the left, with the Venetian Lagoon and Venice's historic center to the right of the long, narrow Lido di Venezia. See our Orientation Map for a closer view.
Are you planning your first trip to Venice, Italy? If so, this three-page introductory guide will make your task easier.
Basic geography
As you can see from the Google satellite map below, Venice is an island city: The centro storico or historic center is a tightly-integrated cluster of 118 small islands that are linked by more than 400 footbridges. (Every time you cross a canal, you're stepping onto another island.)
The entire city center covers only about 1,800 acres or 725 hectares, which is a little more than twice the size of New York's Central Park or London's Hampstead Heath.

In the satellite photo, the centro storico (labeled "Venice") is connected to the mainland suburb of Mestre by the Ponte della Libertà, a long causeway that was built early in the 19th Century. (You can also see Venice Marco Polo Airport near the top of the photo, about 6 km or 4 miles from the city center.)

The causeway carries road traffic to Venice's Piazzale Roma and the parking island of Tronchetto. Train tracks run alongside the roadway and end at the Venezia Santa Lucia railroad station, which is visible as a grey spot where the road curves toward Tronchetto.

Other important islands near the historic center are La Giudecca (separated from the centro storico by the Giudecca Canal, which is used by cruise ships), San Michele (Venice's island cemetery), and the glassmaking island of Murano.
To the right or east of the historic center is the Lido di Venezia, a long, narrow strip of land that separates the Venetian Lagoon (which surrounds Venice) from the Adriatic Sea. Cruise ships and ferries enter and exit the lagoon via the Porto di Lido, a gap between the Lido and the suburb of Punta Sabbioni.
Now that you have an overview of Venice's geography, zoom in on the map by clicking on the section labeled "Venice." Here's what you'll see:

At the left edge of the satellite photo are the Tronchetto parking island, the Stazione Marittima cruise terminal, the Piazzale Roma open-air bus terminal (beneath the "SR11" label), and--just to the right of SR11--the Santa Lucia railroad station.

From the Piazzale Roma and the railroad station, the Grand Canal snakes through the city toward St. Mark's Basin and Venice's famous Piazza San Marco.
You may notice the word "Sestiere" on the zoomed-in map. Central Venice is divided into six sestieri or boroughs: Canareggio, Castello, Dorsoduro, San Polo, San Croce, and San Marco.

The names of the sestieri are worth knowing mainly to avoid getting lost: If your hotel confirmation from, say, the Hotel San Moisè identifies the hotel's address as San Marco 2058, you'll have a rough idea of the hotel's location within the city. (You'll still need to know that it's on the Piscina San Moisè, however, because--as we explain here--Venice's building addresses aren't street numbers and follow no discernible logic.)
For a visual tour of the city's layout:
See our Aerial Venice guide, which is packed with large overhead and close-up aerial views of the city with text descriptions. (Topics include squares and other sights, bridges, waterfront promenades, transportation hubs, and more.)