Venice > Planning > Introducing Venice
Introducing Venice
An orientation for first-time visitors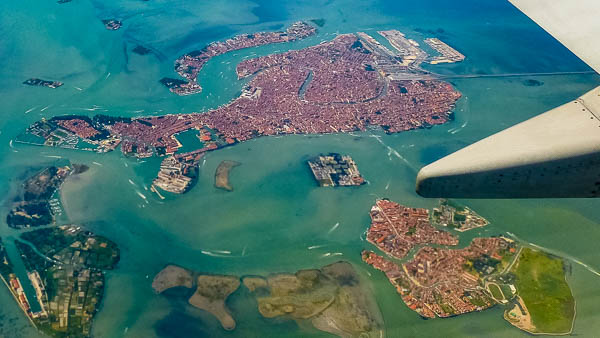 ABOVE: An aerial view of Venice, Italy. The city's historic center is in the upper half of the photo, with the glassmaking island of Murano at lower right.
---
Are you planning your first trip to Venice, Italy? If so, this brief introductory guide will make your task easier.
---
Basic geography
As you can see from the photo above, Venice is an island city: The centro storico or historic center is a tightly-integrated cluster of 118 small islands that are linked by more than 400 footbridges. (Every time you cross a canal, you're stepping onto another island.) See "Is Venice connected to the mainland?" for more details and aerial photos.
The entire city center covers only about 1,800 acres or 725 hectares, which is a little more than twice the size of New York's Central Park or London's Hampstead Heath.
The centro storico or historic center of Venice is connected to the mainland suburb of Mestre by the Ponte della Libertà, a long causeway that was built early in the 19th Century.

The causeway carries road traffic to Venice's Piazzale Roma and the parking island of Tronchetto. Train tracks run alongside the roadway and end at the Venezia Santa Lucia railroad station, which is visible as a grey spot where the road curves toward Tronchetto.

Important islands near the historic center are La Giudecca (separated from the centro storico by the Giudecca Canal, which is used by cruise ships), San Michele (Venice's island cemetery), and the glassmaking island of Murano.
To the right or east of the historic center is the Lido di Venezia, a long, narrow strip of land that separates the Venetian Lagoon (which surrounds Venice) from the Adriatic Sea. Cruise ships and ferries enter and exit the lagoon via the Porto di Lido, a gap between the Lido and the suburb of Punta Sabbioni.
In our "Picking the best hotel location" article, we make a statement that's worth repeating here:
Many first-time visitors book hotels (or let their travel agents book hotels) without giving any thought to location. This can lead to frustrating and expensive mistakes.
To see why, let's look at another aerial photo: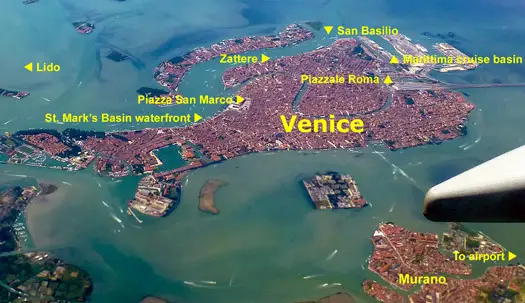 Let's say that you're arriving by air and spending two days in Venice before departing on a cruise ship from the San Basilio pier.
 Your travel agent books you into a hotel in Castello, inland from the Piazza San Marco. You're traveling with large, heavy luggage.
Because your travel agent knows a lot about cruising but very little about Venice, she didn't realize that:
You'll need to walk over a series of bridges and down narrow, crowded streets with your bulky luggage to reach the hotel from the San Marco airport-boat stop, and...

On the day of your cruise departure, you'll need to lug your suitcases to a distant  vaporetto pier where you can catch an expensive water bus to San Basilio, or--alternatively--pay 60 or 70 euros for a private water taxi.
You're going to have a frustrating experience that could have been avoided if you'd stayed at a hotel closer to your cruise terminal.
The same principle applies if you're arriving and departing by train: By staying within walking distance of the Santa Lucia railroad station, you'll save time, hassle, and money.
To find suitable hotels quickly and easily, see our Venice Hotel, B&B, and Apartments Guide.
Tip: Most hotel reservations can be cancelled without penalty if you give notice at least 24 to 48 hours before your stay. If you discover that you're booked into a hotel that doesn't fit your needs, see if you can cancel the booking and choose another hotel at a more convenient location.
---
Venice Transportation

ABOVE: This photo, taken from the Ponte dei Scalzi bridge, shows two ACTV vaporetti (water buses) on the Grand Canal.  The Ferrovia ACTV piers and the Santa Lucia Railway Station are visible on the right, behind the boats and the Scalzi Church.
Arriving:
In our "Arriving in Venice" article, we tell you how to reach the city center from the Venice Marco Polo and Treviso airports, from the Mestre and Santa Lucia railroad stations, from the cruise and ferry terminals, or by car.
If you're driving, you'll also want to see "Parking in Venice," which has advice (with Web links) about where to park in Venice or on the mainland.
Also see our Venice for Cruisers section if you're arriving or departing on a cruise ship.
Getting around the city:
Our Local Transportation Index lists articles about water buses (vaporetti), water taxis, pedestrian and car ferries, tourist travel cards, and related topics.
Most of the time, you won't need to use water buses or other boats unless you have limited mobility or you're traveling to an island such as Murano, Burano, or Torcello. What you will need is a good map, so read our "Venice Street Maps" article before looking for a newsstand, souvenir shop, or bookstore.
Also see "Walking in Venice," which has more advice on maps along with tips about directional signs, street signs, and addresses.
---

---
More about Venice, Italy
After you've read this introduction to Venice, go to our Venice Travel Guide, which lists all of our Venice travel articles by category.
Finally, don't miss our Venice Frequently Asked Questions (FAQ) section, which offers useful advice in an easy-to-read format.
---
About the author:

Durant Imboden has written about Venice, Italy since 1996. He covered Venice and European travel at About.com for 4-1/2 years before launching Europe for Visitors (including Venice for Visitors) with Cheryl Imboden in 2001.

PC Magazine has called this "the premier visitors' site for Venice, Italy." Over the years, it has helped more than 30 million travelers. For more information, see About our site, our Europe for Visitors press clippings, and our reader testimonials.
---