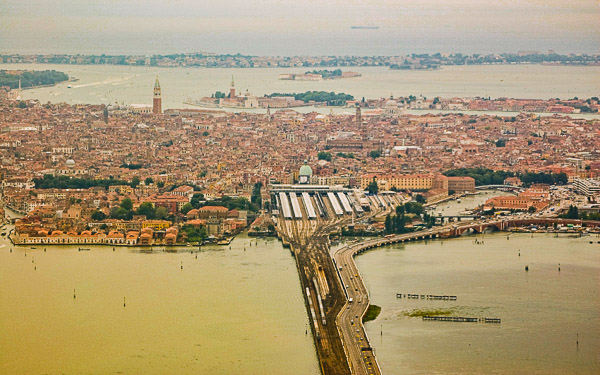 ABOVE: The Venice Railroad Bridge and the Ponte della Libertà form a causeway that links Venice's centro storico with the Italian mainland. In the picture above, you can see the Venice Santa Lucia railroad station (center of photo) and the Piazzale Roma (the grey splotch on the right side of the photo). The Venice cruise terminals and the Tronchetto parking garage are out of view to the right of the Piazzale Roma.
---

By Durant Imboden
Venice's historic center is about 4 km or 2.4 miles off the coast of Northern Italy. The city is built on more than 100 islands in the Venetian Lagoon, and it's connected to the mainland by the Venice Railroad Bridge and a road causeway named the Ponte della Libertà or "Bridge of Liberty." (See "Is Venice connected to the mainland?")
You'll cross this bridge if you arrive by train, bus, car, or land taxi; another option is to come from the airport or a mainland parking lot by public water bus or water taxi.
For detailed information on how to reach Venice, continue to the following pages or use the navigation links in the table below.
Also see our Baggage Storage - Left Luggage article if you need to park suitcases before or after your arrival or departure, and read Walking in Venice for advice on finding your way around the city on foot.
For how-to information about public transit,  see our Venice Local Transportation Index and especially our illustrated guide to using Vaporetto Water Buses.
Finally, if you need a place to stay, see our Venice Hotel, B&B, and Apartment Guide.