ABOVE: A view of the Grand Canal from Ca' Foscari.
Ca' Foscari is one of the most important palazzi in Venice. The historic building was once the home of Francesco Foscari, a doge of the Serene Republic of Venice who acquired the Venetian Gothic palace in 1452, hired an architect to reconstruct it, and died just five days after moving into his new home in 1457.
Today, Ca' Foscari is the administrative seat of Ca' Foscari University, an educational institution that was founded in 1868 and now has 19,000 students in faculties scattered around Venice. The building was renovated under the direction of the Italian architect Carlo Scarpa in the mid-1930s and restored again from 2004 to 2006, when sections of the original floors and ceilings were uncovered and preserved for viewing.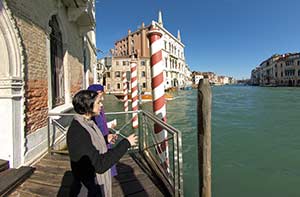 ABOVE: The Ca' Foscari tour includes dramatic views of the Grand Canal fom the 15th Century palazzo's water entrance. (In the photo above, Barbara Cavalieri shares anecdotes about the palace with her two tour guests.)
Guided tours for the general public

In 2009, Ca' Foscari University began offering inexpensive guided tours of its historic palazzo headquarters in Italian, English, and Italian sign language. The tours take place year-round, with a handful of closing days (mostly on public holidays).

The standard tour includes a narrated walk through the courtyards of Ca' Foscari and the neighboring palace of Ca' Giustinian, visits to several important rooms in Ca' Foscari, and sweeping views of the Grand Canal from the palace's water entrance. It lasts about an hour and is well worth the modest price. Another option is a 75-minute tour that includes a visit to Ca' Dolfin, which houses the university's Great Hall.
For more information on these and other tours (including current prices), visit the Ca' Foscari Tour pages at the Universitą Ca' Foscari Web site.
Click "en" for "English, then select "Visit and Booking." You'll be shown a page of tour descriptions. Click the name of a tour for prices, online booking links, and other details. Alternatively, you can call +39 041 234 8036 or e-mail [email protected] at least one day before your planned visit to confirm tour times and make reservations.