Pizzeria Al Faro

---
Archived restaurant review (1997)
The orginal Pizzeria-Trattoria Al Faro closed early in 1998, reportedly because its lease expired and the landlord demanded a huge rent increase. Al Faro later reopened under new management, but we haven't been there in quite a while. We've left the review in place for nostalgia buffs and because reviews of other Venetian restaurants point to the map with directions on page 2.
---
In a city where pizzerias are a lira a dozen, the Pizzeria-Trattoria Al Faro in Venice's Cannaregio district has a unique claim to fame: Its thin-crust pizzas are baked in a traditional wood-burning oven as you watch.
The dining room, while comfortable, isn't noted for its atmosphere. The rectangular room has bright lighting, a '60s or '70s modern decor with nondescript wood paneling, long banks of cloth-covered tables, and a scattering of plates and prints on the walls. Still, perhaps that's as it should be, since the center of attention is the area where a hard-working chef assembles pizzas with the grace of an artist. He spins balls of fresh dough into plate-size disks beneath the heel of his hand, then scoops up mounds of mozzarella cheese, tomatoes, and other ingredients to scatter across the finished crusts. Seconds later, your pizza is being thrust into a flaming oven with a wooden peel, to be retrieved after you've had time for an appetizer: say, a mixed salad or a plate of crisp hot patate frite (French fries).
Several dozen pizzas are listed on the menu. I like the pizza verdure ai ferri, which augments the basic cheese and tomato with fresh peppers (red, green, and yellow) and paper-thin slices of zucchini and eggplant. But there are plenty of other good choices, including the Juli (named after Juli Van Zyverden, an American resident of Cannaregio). The average pizza costs 8,000 to 10,000 lire, which is typical of Venetian budget restaurants.
Pizzas aren't the only items worth sampling. The piping-hot lasagne, with its creamy sauce, is a great warmup course on a chilly evening, and the whole grilled sole is prepared with a commendable simplicity. The pasta dishes are also said to be excellent, although I didn't try them during my three visits to Al Faro.
Be sure to leave room for dessert. I recommend the lemon cake, which is baked in Al Faro's wood-burning oven, but it can be hard to make a decision when you're faced with the tempting choices on the dessert table near the entrance.
And finally, remember to tip the exceptionally competent and friendly service staff! (The modest 1,500-lire coperto, or cover charge, is a standard supplement for linen and silverware in Italian sit-down restaurants and shouldn't be confused with a service charge or compulsory gratuity.)
How to reach Al Faro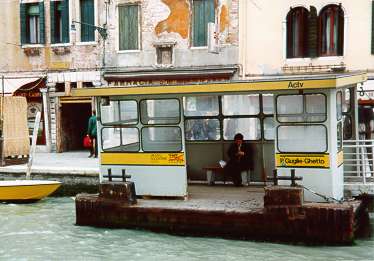 ABOVE: From the P. Guglie-Ghetto vaporetto stop on the Cannaregio Canal, walk through the passageway at the left side of the photo. Al Faro is just up ahead.
Al Faro is located in the Ghetto Vecchio ("Old Ghetto"), just up the Cannaregio Canal from the Ponte delle Guglie. You can print out a map with directions and take it on your trip for convenience in finding the restaurant. (Note: The restaurant is closed on Tuesdays.)