Roundtrip Cruises from Venice
In a typical year, cruise and ferry lines offer roundtrip itineraries from Venice, Italy and nearby ports that make it easy to combine a cruise with a Venetian holiday.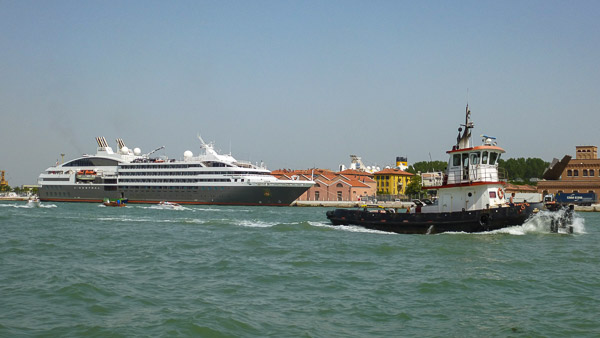 ABOVE: A tugboat passes Compagnie du Ponant's Austral, which is moored at the San Basilio cruise terminal in central Venice.
---
Are you having trouble choosing between a land vacation and a cruise?  Not to worry: In most years, major cruise lines offer ship voyages that begin and end in Venice or in locations nearby. Such roundtrip cruises offer a great way to combine a Venice holiday with a trip by ship--allowing you to enjoy back-to-back vacations with only one air or train fare.
Below are links to cruise and ferry lines that welcome English-speaking passengers and offer at least a few scheduled roundtrip voyages from Venice or nearby cities.
Please note: Some ships sail from ports as far away as Chioggia or Ravenna (up to two hours by bus from Venice), thanks to an Italian government edict that has banned all but the smallest ships from Venice's city center. Others depart from the Marghera Industrial Zone or the ferry port of Fusina on the Venetian mainland, which are much closer to central Venice and Marco Polo Airport.

For more information, see our Venice cruising changes article. (Also note that some cruise lines allow check-in at the Marittima cruise basin in central Venice, with free shuttle buses taking passengers to their ships at ports on the mainland.)
---
Ocean cruises

Azamara
This boutique cruise line is offering a handful of roundtrip cruises from Chioggia and Fusina (two small ports on the Venetian Lagoon) in 2023 and 2024.
---

Compagnie du Ponant
France's luxury cruise line caters to international travelers (including Anglophones) and has been on a shipbuilding spree in the past few years.
See our illustrated review of a roundtrip cruise from Venice on Compagnie du Ponant's 264-passenger "megayacht," L'Austral.
In 2023 and 2024, Ponant is operating a small number of roundtrip Adriatic cruises from Venice. The itineraries begin and end at Marghera, not far from Venice's historic center.
---

Costa Cruises
Europe's largest and oldest cruise line has been in business for more than 60 years. From Venice, Costa usally operates a busy calendar roundtrip cruises in the Eastern Mediterranean, with several different itineraries and departures from spring through fall.
Costa ships currently arrive and depart in Marghera, on the Venetian mainland.
---

Holland America Line
HAL no longer cruises from Venice, but it does have occasional roundtrip itineraries from Trieste (near Italy's border with Slovenia).
If you can tolerate a two-hour train or bus ride, you could combine a HAL cruise with a Venetian vacation.
---

MSC Cruises
Mediterranean Shipping Company, a.k.a. MSC, is one of the world's largest cargo operators. It entered the cruise business more than 20 years ago and now operates a large fleet of megaships that cater to a multilingual, multinational audience.
MSC operates dozens of roundtrip voyages in the Eastern Mediterranean from spring through fall, with arrivals and departures at Venice's mainland port of Marghera.
---

Royal Caribbean International
RCCI is an American mass-market cruise line that has reached out to European travelers in recent years. Unfortunately, its so-called "Venice" cruises now arrive and depart at Ravenna, which is about two and a half hours from Venice by road or rail.
Royal Caribbean does offer bus transfers between Ravenna and central Venice or Venice Marco Polo Airport at extra cost.
---

Silversea Cruises
One of our own favorite cruise lines has occasional roundtrip sailings from Fusina, a small ferry port on the Venetian mainland. In 2023 and 2024, the line's seven-night itineraries include cities in the Adriatic, with an emphasis on Croatia.
---

Windstar Cruises
In 2024, Windstar will offer a series of nine-night roundtrip cruises from Venice with stops in Croatia, Montenegro, and Slovenia. All are aboard Wind Spirit, a four-masted sailing vessel that carries 148 passengers.  
---

CroisiEurope
River cruising is the specialty of this French company, which operates the Michelangelo in Venice, the Venetian Lagoon, and the Po Delta. Part of the time is spent cruising, and the rest is used for excursions by water or land.
---

European Waterways Ltd.
From spring through fall, European Waterways runs six-night cruises aboard La Bella Vita, a 20-passenger hotel barge.
The itinerary begins in Venice, includes stops at small ports in the Venetian Lagoon, and heads up the Po River or the adjacent Bianco Canal toward Mantua, with return transportation to Venice by bus. (In alternating weeks, the cruise runs in the opposite direction.)
See our illustrated review at Europeforcruisers.com.
---



Uniworld Boutique River Cruises
A newly renovated La Venezia (formerly River Countess) offers a seven-night "Venice & the Jewels of Veneto" roundtrip that includes port calls in Chioggia and two islands in the Venetian Lagoon. The ship's season typically runs from the end of March through early November.

To whet your appetite, read our cruise review at Europe for Cruisers.
---
Ferries
If you're more adventurous, or if you insist on having your car as a companion, you can combine back-to-back ferry trips into a minicruise:

Anek Lines
This Piraeus-based shipping company operates cargo-and-passenger ferries that link Venice with Igoumenitsa and Patras. Anek also runs ferries between Greece (including Corfu) and the Italian ports of Ancona and Bari, making it possible to build a longer cruise with connecting voyages.
Anek ferries arrive and depart at Terminal Fusina, on the Venetian mainland.
---
---