Venice > Transportation > Venice RR station to airport
Venezia Santa Lucia Railroad Station to Venice Marco Polo Airport
Ground transportation and walking directions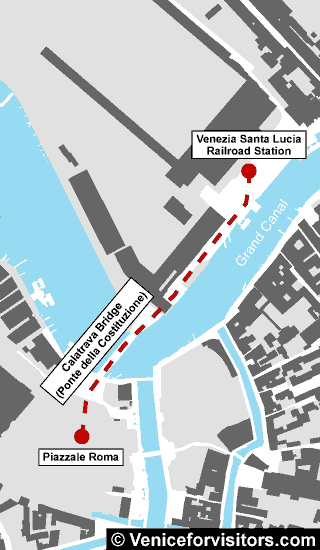 ABOVE: This map shows the walking route from Venezia Santa Lucia Station to the Piazzale Roma, where you can catch buses and taxis to Venice Marco Polo Airport.
Getting from Venice's Venezia Santa Lucia Railroad Station to Venice Marco Polo Airport is simple, although it does require a short walk unless you're willing to spring for a horrendously expensive water taxi.
Here are step-by-step directions:
By airport bus:
Leave the station by the main entrance, as shown on the map (or by the side door if you want to avoid the busy station lobby). Both the main entrance and side door have ramps for luggage, strollers, or wheelchairs.

Turn right and walk along the water to the Ponte della Costituzione, or Calatrava Bridge, which is only a minute or two from the station.

Cross the bridge to the Piazzale Roma.

In the Piazzale Roma, take the ATVO "Venezia Express" airport coach or the more crowded ACTV No. 5 "Aerobus" to Marco Polo Airport. (Travel time will be about 20 minutes.) For fares and other information, see our Venice Airport Buses article.
By land taxi:
Follow steps 1, 2, and 3 above.

Hire a land taxi in the Piazzale Roma.
By water taxi:
Look for the water taxi pier in front of the station. A water taxi to the airport will cost a minimum of €110. At the airport, you'll need to walk 7-10 minutes along a level path to the terminal.
An alternative: Venezia Mestre Railroad Station
All trains to Venezia Santa Lucia Station go through Venezia Mestre, a busy station on the mainland near the railroad bridge that leads to Venice. To save time and hassle, you can simply get off your train at Mestre and catch the ATVO "Fly Bus" airport coach to Marco Polo Airport. (To reach the ATVO stop, exit the station, turn right, and walk to the cul-de-sac where you'll see a bus sign.)
Related article: Marco Polo Airport to Venezia Santa Lucia Railroad Station
---