Venice > Planning > The Golden Luggage
The Golden Luggage
Nicola Brusò's left-luggage shop is a convenient place to park your bags if you're catching a water bus from Piazzale Roma.

ABOVE: The Golden Luggage occupies a storefront between vaporetto piers E and F at Piazzale Roma, central Venice's gateway for airport buses and land taxis.
Nicola Brusò, a personable entrepreneur with a penchant for customer service, first came to our attention when he introduced his "Keep Calm Point" deposito bagagli as an alternative to the more expensive (and often crowded) official left-luggage office in Venice's Santa Lucia railroad station. His new storage location, The Golden Luggage, offers the same kind of convenience if you're arriving in Venice by airport bus or land taxi and need to take a crowded public water bus to your hotel or vacation apartment.
The shop is located along the fondamenta, or waterfront sidewalk, between ACTV boat piers E and F, where you can catch vaporetti and other public water buses to locations around the city center. (For example, the popular Vaporetto Line 1, which serves 21 ACTV stops along the Grand Canal, departs from pier E near The Golden Luggage.)
Address, hours, and prices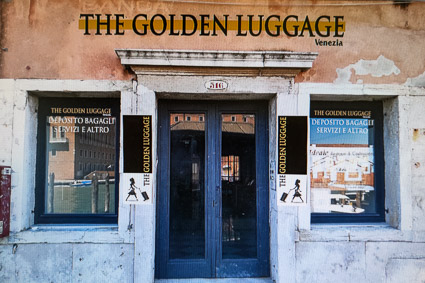 ABOVE: The Golden Luggage's name was inspired by the Golden Ticket in Roald Dahl's Willy Wonka and the Chocolate Factory.
The Golden Luggage is at Fondamenta Santa Chiara 516. From the Piazzale Roma, walk toward the Calatrava Bridge and bear left along the waterfront until you've passed ACTV vaporetto pier F.
The shop is open from 8:45 a.m. until 7:30 p.m. 7 days a week.
Storage fees are €6 for small bags and €8 for large suitcases.
The shop also sells ACTV waterbus tickets, maps, guidebooks, drinks, and other useful items.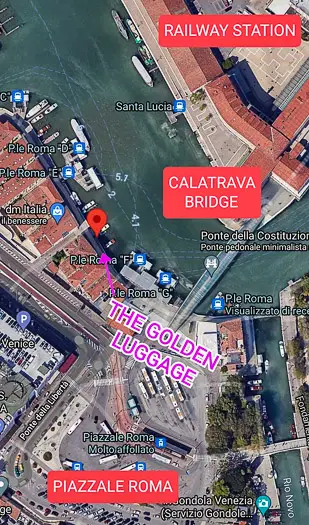 ABOVE: The red marker (center left) shows The Golden Luggage's location in relation to the railroad station, the Calatrava Bridge (a.k.a. Ponte della Costituzione), and the Piazzale Roma.
---
Why use luggage storage?
By now, you may be asking yourself: "Why should I pay to store my luggage when I can take it to my hotel?" The answer is twofold:
1. Venice's public water buses are often jam-packed, especially on weekends, during Carnival, and in the busy season from April to October. If you're hauling bulky suitcases, you may not be able to squeeze onto the boat.
2. ACTV water buses have a luggage allowance of one suitcase plus one carry-on item. You're required to pay a full adult fare for each additional piece of luggage. (Many visitors ignore this rule, but if a fare inspector catches you, you may be slapped with a hefty fine.)
---
Official poster: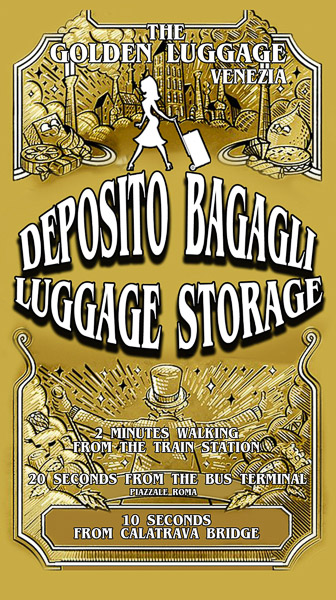 ABOVE: The claimed walking times may be optimistic, but we can confirm that The Golden Luggage is very close to buses, trams, taxis, the Calatrava Bridge, and the railroad station.
Images courtesy of Nicola Brusò.
---