Venice > Planning > Baggage storage
Baggage Storage in Venice
Left luggage or Deposito Bagagli
Where to leave bags after you've checked out of your hotel, or when you want to avoid hauling heavy suitcases across the city.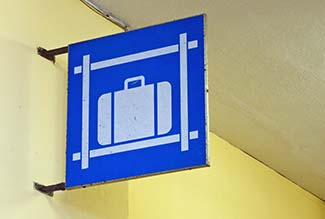 ABOVE: A sign marks the luggage office at Venezia Santa Lucia Railroad Station.

We often get e-mails from readers who want to know where they can store luggage after leaving their hotels, during day trips to Venice, or when passing through Venice Marco Polo Airport, the Venice Cruise Terminal, or the Venice Railway Station. Here are our suggestions:
1. When possible, leave bags at your hotel.
The easiest way to store luggage is to leave it with your hotel's front desk. Nearly all hotels will hold bags for a few hours before you check in or after you check out.
At smaller hotels, you can simply leave bags with the receptionist; at larger or more expensive hotels, you'll need to store bags with the concierge or luggage porter.
Suggestion:

If you have an early departure, have mobility problems, or are just spending a night or two in Venice at the beginning or end of a cruise, we strongly urge you to consider staying at a hotel near your point of arrival or departure. (See our No. 1 Venice Hotel Warning.) This is far easier than hauling luggage through the streets, on crowded and high-priced water buses, or in even more expensive water taxis. For hotel suggestions, see our Venice Airport Hotels, Venice Railway Station Hotels, and Venice Cruise Terminal Hotels articles.
2. Otherwise, use a deposito bagagli office.
Left-luggage offices are located at:
**For current rates and hours of  the deposito bagagli offices at Piazzale Roma and Marco Polo Airport, see the Cooperativa Trasbagagli Venezia's English-language Web site.
3. Introducing a newer option: Luggage lockers.
Self-service "locker shops," such as Vaise, are now scattered around central Venice. See Venice Luggage Lockers for listings, with reasons why you might (or might not) find lockers a better bet than conventional luggage storage.