Venice > Transportation > Land taxis
Venice Taxis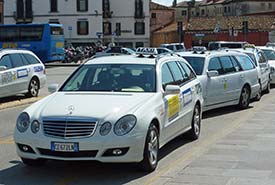 ABOVE: Taxis in the Piazzale Roma, the automotive gateway to Venice's historic center.
Venice taxis come in two varieties: water taxis (which are convenient but expensive) and land taxis, the subject of this article.
Land taxis are of limited utility in Venice, because most of the city is off limits to automobiles. The Piazzale Roma is as close as a four-wheeled taxi can get to Venice's historic center. From there, you'll need to reach your hotel, hostel, apartment, etc. on foot or by vaporetto (water bus).

Still, a land taxi can be convenient if:
---

---
Where to find a taxi
At Venice Marco Polo Airport, follow the taxi signs on the arrivals level.

At the Piazzale Roma, look for a taxi rank along the tree-lined side of the square.

If you're coming from Treviso Airport (which serves Ryanair and several other budget airlines), take the ATVO or Barzi bus, or you may end up spending far more on a taxi than you did on your air fare.
Venice taxi fares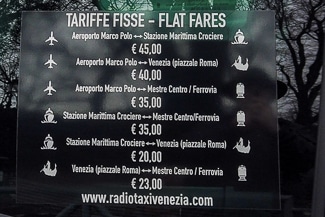 Plan on spending 40 euros for a taxi between Marco Polo Airport and the Piazzale Roma. For other fares, see the photo above.
Add-ons for luggage, late-night trips, and travel on public holidays could push the fare higher, so ask the driver for an estimate if you're watching your euros.
Tipping is optional, but it never hurts to round up the fare or tip 5 to 10 per cent, depending on whether the driver has been helpful, the tipping customs in your country, and your own comfort level. (Americans tend to tip generously; Australians frequently don't tip at all.)
For more information, or to book a cab in advance, see the Radiotaxi Venezia e Mestre Web site.
Final notes
 If you're arriving at the Venice Santa Lucia Railroad Station, you won't be able to get a land taxi. However, you can turn right as you leave the station and reach the taxi stand in the Piazzale Roma by walking across the new Ponte di Calatrava (officially "Ponte della Costituzione") bridge. 
---
---