Venice > Local transportation > Water buses
Venice ACTV vaporetto water buses
How to use public transportation in Venice, Italy.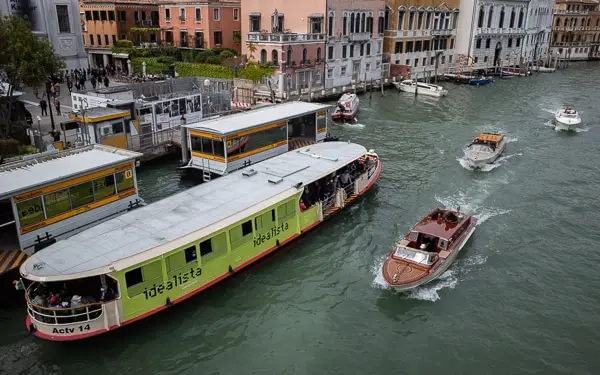 ABOVE: A Line 1 vaporetto (left) arrives at the Accademia ACTV stop on the Grand Canal. On the right is a private water taxi.
---
In Venice's centro storico or historic center, which is made up of more than 100 islands, water buses are the equivalent of buses and subways on dry land.
ACTV, the public-transportation authority in Venice, operates vaporetti and other water buses around the clock, with a fleet of 150 boats and routes that extend into the far corners of the Venetian Lagoon.
Venice is a small city, and you can walk nearly to nearly any street, square, monument, or hotel within the historic center in 30 minutes or less. Still, there are times when you'll want to take a water bus, such as:
If you're staying outside the center on an island such as the Lido di Venezia or La Giudecca (site of the Venice Hostel);

When you want to visit the islands of the Lagoon, including the glassmaking island of Murano;

When you want to spend 45 minutes or so cruising up or down the Grand Canal on the No. 1 vaporetto line;

When you're tired after a day's sightseeing and you're willing to pay a premium for a ride back to the neighborhood where you're staying.
In this article, we'll describe the different types of vaporetti, motoscafi, and motonavi in Venice's ACTV fleet.
We'll also tell you how to board and use the boats, how to avoid crowds during high season and holiday weekends, and what you need to know before boarding a water bus with luggage.
For even more information (including routes, fares, and tourist passes), please click the links in the "Also see" menu below.