Venice > Sightseeing > Top 11 free sights
Venice's Top 11 Free Sights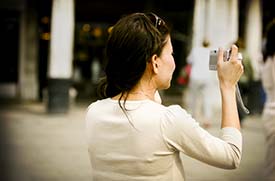 ABOVE: A visitor grabs a shot of the Piazza San Marco. INSET BELOW: A wedding gondola on the Grand Canal, and the Santa Maria della Salute Church.
---

Venice, Italy has a reputation for being expensive, but don't be discouraged: Many of the city's most interesting sights are free. By spending the bulk of your time on the places and experiences that are discussed in this article, you'll have money left over for the things that really matter to you--whether your tastes run to cultural attractions like the Doge's Palace and the Accademia art gallery or to restaurants, bars, hotels, and shopping.
Most of the sights on the next 11 pages won't cost you a single euro. In a few cases, you can pay for options (such as an inexpensive traghetto ride across the Grand Canal) or you'll need to buy a waterbus ticket to get where you need to go.
Tips:
At the end of this guide, you'll find a printable "Top 11 Free Sights" list. Print it out and tuck it into your tote, camera bag, or guidebook to use as a cheat sheet when you're in Venice.

For more sightseeing advice, click the "Related articles" links on each page or see our main Venice Sightseeing Articles Index.

The Association 360 Gradi offers free walking tours twice a day year-round.
To begin planning your tour of Venice's Top 11 Free Sights, click here or use the navigation menu below:
Top photo copyright © Triggerphoto.
1st inset photo copyright © Marisa Allegra.
2nd inset photo copyright © Joseph Tringali.