Venice > Sightseeing > Top 11 free sights > Canals, squares, streets
Canali, Campi, and Calli
(Canals, Squares, and Streets)
From: Venice's Top 11 Free Sights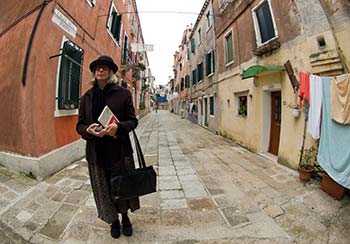 ABOVE: The Calle Seco Marina in Sant'Elena.
To experience the "real Venice" (and yes, it's very much alive), head into the side streets away from the major thoroughfares like the Strada Nova and the big squares such as the Piazza San Marco.

You'll find an endless succession of pedestrian streets, canals, bridges, campi, and surprises--such as the Squero di San Trovaso, or gondola workshop, near the San Trovaso Church and the Moorish sculptures on the Campo dei Mori in Cannaregio, which are just a few doors away from an apartment building that once housed Tintoretto's workshop.

Just as important, you'll see how Venice's citizens live. Today, only about 55,000 people reside in the historic center (compared to an estimated 170,000 in the heyday of the Venetian Republic), but they still hang out in neighborhood bars, buy produce from local vendors, and hang their laundry from clotheslines above the street. If you're lucky, you'll encounter a friendly dog or cat, as Cheryl did in the inset photo above.
Tip: Take a good Venice street map with you when you go exploring. It's easy to get lost and wander around in circles (though you can't go too far afield, since you'll hit water eventually).
Related articles: