Venice Boat Rentals
Do-it-yourself cruising on the Venetian Lagoon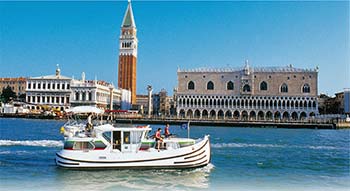 ABOVE: St. Mark's Basin is just a few hours by marked navigation channels from Chioggia, where you pick up your Locaboat Holidays boat.
Venice isn't just a city with water-filled streets: It's also the main population center of the Venetian Lagoon, a shallow body of water that runs 45 km (30 miles) from its northern reaches to Chioggia, a fishing port and seaside resort at the southern end of the laguna.
The Venetian Lagoon is sheltered from the Adriatic by long strips of land and massive seawalls called litorali, and it's criss-crossed by navigation channels marked with clusters of wooden pilings. This makes it a friendly place for do-it-yourself boating--especially if you're a captain whose maritime experience is limited to lakes, inland waterways, or even the neighborhood swimming pool.
To navigate the Venetian Lagoon, you need a boat. Don't worry about bringing your own or buying a gondola: For the price of a three-star hotel room, you can hire a motor yacht from Locaboat Holidays, a company that offers self-drive Pénichette cabin cruisers in Chioggia. (Locaboat Holidays is British-owned, with a head office in France and a North American sales office in Lake Placid, New York.)
Boats come in various sizes. The smallest and least expensive is the "Con Fly," which sleeps up to four people in two double cabins. At the upper end of the price and luxury scale, the Pénichette 1500R has room for eight to 11 passengers in four double cabins with two shower-equipped bathrooms. The Pénichette shown in the photo above is a "flying bridge" model, which is available in 4/5- and 6/7-person configurations. (If you want even more luxury, Locaboat's sister company, Cardinal Boating Holidays, can supply you with a 5-star vessel and an optional skipper.)
Rentals are available from late March through early November. Prices include the boat with cooking essentials and linens, navigation tolls, insurance, an orientation session, and one bottle of cooking and heating gas. You pay extra for fuel, additional LP gas, navigation maps, and return of the boat to Chioggia if you prefer a one-way itinerary. Options include bicycle rentals, car parking, trip-cancellation insurance, and final cleaning. You can even bring your pet if you trust it not to jump overboard.
Next page: Suggested cruise itineraries
---
---