ABOVE: Ticket machines outside the People Mover's Tronchetto station. INSET BELOW: A ticket from the People Mover's opening day.
Riding Venice's People Mover is easy: There's only one route, and the fare is €1,50 (regardless of where you board or get off). If you have an unused ACTV land-bus ticket, you can validate that instead of buying a People Mover ticket.
What to do first: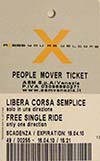 Look for ticket-vending machines near the station entrances.
You can pay with euro coins , banknotes (€5, €10, or €20), or a credit card. The machines have instructions in four languages. (Ignore the monthly-ticket option, which is meant for daily commuters.)
After you've bought your ticket:
After you've bought your ticket, go to the entry checkpoint and hold your ticket under the scanner with the barcode up. When the barrier opens, go through and continue upstairs via the escalator or lift.
On the train level, you'll find a platform with glass walls and doors on both sides. An electronic sign will show the waiting time (usually no longer than a minute or two) until the next train.
When the train arrives, doors will open on the far side of the cars to let arriving passengers disembark. A moment later, the doors will open on your side, and you'll be able to step onto the train.
The ride between the Piazzale  Roma and Tronchetto takes just over three minutes, including a stop at the Marittima cruise basin. When you reach your station, simply wait for the doors to open and get off, then head downstairs to the station exit.
Hours of operation:
Monday to Saturday:
Sundays and holidays:
April-October: 8 a.m. to 10 p.m.

November-March: 8:30 a.m. to 9 p.m.
Related article:
People Mover to Marittima Cruise Terminals
If you're departing on a cruise ship from Marittima (the basin used by larger cruise ships), our illustrated step-by-step directions will help you reach the pier.