Venice > Sightseeing > Venice-Chioggia
Venice to Chioggia
From the Lido by bus and ferry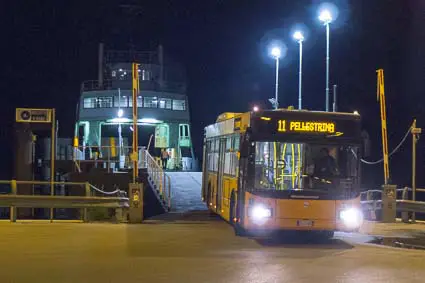 ABOVE: A No. 11 bus leaves the car ferry at Porto di Malamocco, a shipping channel that perforates the ithsmus between the Lido and Chioggia.
---
---
Chioggia, at the southern end of the Venetian lagoon, is one of Italy's major fishing ports. Most tourists visit Chioggia for one of two reasons: as a break during the drive along the littorale from Venice's Lido resort island to the mainland, or to stay at the nearby Sottamarina beach resort.
The usual way to get from Venice to Chioggia is to take a bus from the Lido, the long and narrow resort island that separates the Venetian Lagoon from the Adriatic Sea. Here's what to do:
From central Venice, take the #1 vaporetto to the Lido. (During summer, you can also take the #2.) See my vaporetto routes article for more information on waterbuses.

When you reach the Lido, buy a ticket for the #11 bus. Check the schedules and board a bus that goes all the way to Pellestrina. Buses run every hour or so.

The bus will take you to Pellestrina, with a short ferry ride across the Porto di Malamocco shipping channel. (During the ferry crossing, you can get off the bus to take pictures and enjoy the views.)

At Pellestrina, you'll get off the bus and board a small passenger ferry for a 25-minute ride to Chioggia.
Total distance is approximately 40 km (25 miles), and it'll take you about an hour and a quarter to reach Chioggia from the Lido.
Buying tickets: You can purchase tickets from any Hellovenezia ticket booth in Venice's historic center or on the Lido, either at the window or from a multilingual vending machine. If you're already purchased a 12-hour to seven-day ACTV Tourist Travel Card, you'll need to pay only for the leg of the journey from Pellestrina to Chioggia.
From Chioggia to Venice
If you're vacationing in Chioggia, you may want to make a day trip into Venice. An express water bus leaves for Venice at 9:05 a.m. during the summer; you can catch it back to Chioggia at 5 p.m. The boat has two stops in Chioggia: Piazzetta Vigo (in the historic center) and Isola dell'Unione (next to the beach and boating resort of Sottomarina). For details, see Bob McGrail's reader report.
For more information on Chioggia, see our illustrated Chioggia travel article and the Chioggia section of our La Bella Vita cruise review at Europe for Cruisers.
Next page: A reader's report
---
---
---