Venice > Local transportation > Vaporetto & bus passes
Venice ACTV Travel Passes
Save money on public transportation in Venice with a 24-hour to 7-day tourist ticket.
---
---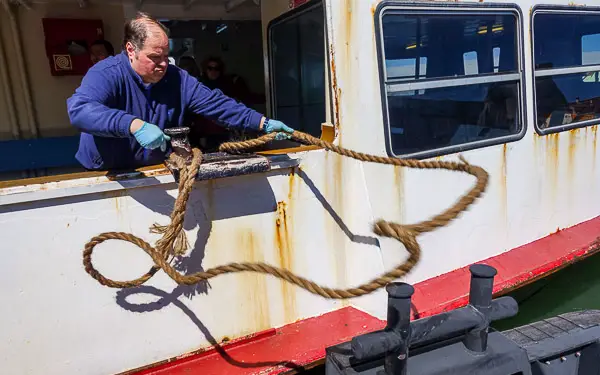 ABOVE: A marinaio, or sailor, tosses a mooring line from a Line 12 water bus as it arrives on the island of Burano.
---
If you've read our Venice Vaporetto Fares article, you know that single waterbus fares for tourists are outrageous: They're  six times the fares paid by local residents and long-term sojourners.
Fortunately, the ACTV--Venice's local transit authority--offers 24-hour or multi-day passes that can reduce the financial pain of riding the city's vaporetti and motoscafi. The Venezia Daily Pass and 2-, 3-, and 7-Day Tickets allow unlimited travel on ACTV water and land buses. (If you've visited Venice previously, you may remember these tickets by their old name, "Tourist Travel Cards.")
---
ACTV Venezia Daily Pass


Biglietto un giorno
€25 *

ACTV Two-Day Ticket


Biglietto due giorni
€35 *
ACTV Three-Day Ticket
Biglietto tre giorni
€45 *

ACTV Seven-Day Ticket


Biglietto sette giorni
€65 *

Three-day Young Person's Travel Card


Biglietto tre giorni giovani
Valid 72 hours after swiping; to buy this card, you'll need a Rolling Venice Card for travelers between the ages of 6 and 29, which you can purchase at any ACTV ticket counter or branch of the Venice Tourist Office for €6,--.
€27
---
For visitors between the ages of 14 and 29, a 3-day "Young Person's Travel Card" is available in combination with the Rolling Venice Card. It's a good value, especially if you're staying at the Generator Venice Hostel on Giudecca.
Here's our advice on using ACTV's daily and multi-day passes:
Don't buy more time than you need. Venice is compact and pedestrian-friendly, so you shouldn't need to ride the vaporetto very often unless you're visiting outlying islands (such as the Lido, Murano, Burano, and Torcello) or have limited mobility.
Consolidate your excursions. For example, if you're planning to visit Murano's glass factories and take a ride up the Grand Canal, buy a Venezia Daily Pass, make both trips in the same day, and take a leisurely ride up the Grand Canal on the No. 1 vaporetto in the evening.
Follow the instructions. When you're riding a water bus, hold the card close to the white electronic ticket reader at the entrance to the vaporetto platform until you hear a beep. On land buses, the ticket reader is usually inside the bus.

(Note: If you see a green ticket reader in a boat station, ignore it. Green readers are for the convenience of commuters who want to check fares on their stored-value cards, and they don't validate rides.)

Be aware of the card's limitations. ACTV tourist travel cards are not valid on ATVO airport buses or Alilaguna airport boats.

If you're a wheelchair user, skip the all-day or multi-day tickets and buy a stack of Disabled Tickets, which are cheap and let you bring a companion free. Each ticket is good for 75 minutes in one direction (using multiple water buses if needed).
Please note:
The clock doesn't start ticking until you scan or swipe your pass, so you can buy the pass before you plan to use it. (The pass is valid for 24, 48, 72, or 168 hours from the first scan, depending on how many days you've purchased.) Also, remember to scan the pass every time you use it.

You can check how much time is left on your pass by holding it up to the electronic card reader and pressing the "?" button.)
If you'll be staying in Mestre/Marghera or on the Lido di Venezia, see our Venice land bus & tram fares article for a description of the inexpensive Mestre Daily Pass. (Among other services, this electronic smartphone pass includes buses, trams, and regional trains between the mainland and Venice's historic center.)
Other tips:
VeneziaUnica, a.k.a. the Venice tourist office, offers two passes:
Venezia Unica pass for tourists, which offers a la carte options such as an ACTV single- or multi-day tourist ticket, admission to municipal museums, and access to public toilets. The pricing scheme is Byzantine, and if you're mostly interested in transportation, we'd recommend just buying an ACTV travel pass. (See "Which Venice transportation pass do I need?" before making a decision.)

Venezia Unica pass for frequent users can be a good value if you're staying in Venice for a while or plan to visit the city repeatedly in the next several years. The stored-value card allows visitors to buy massively-discounted resident fares, and cardholders also get big discounts on Alilaguna airport boat fares.
You can avoid ticket lines by using the official AVM Venezia smartphone app to buy and validate fares and passes. (But read our AVM Venezia app article before taking the plunge.)
---

---
---