Venice > Sightseeing > Vicenza > Hotels
Vicenza
Page 5
Continued from page 4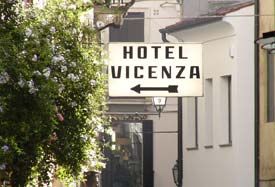 ABOVE: A hotel sign in the city center.
Hotels in Vicenza
Vicenza has a good selection of hotels, especially in the three- and four-star categories. Rates are about what you'd expect in a small but wealthy provincial city, and we'd suggest booking ahead unless you're willing to stay on the fringes.
Just outside the city walls is the four-star Hotel Campo Marzio on the Viale Roma between the pedestrian zone and the railroad station. The hotel has 35 rooms, a restaurant, and free parking. (You can also rent a car from the management if you're arriving by train and would like to explore the Vicenza region.)
The three-star Hotel Cristina is cheaper and lies just west of Porta Castello, the gateway into town from the Viale Roma.
Other possibilities in or near the center of town include the Due Mori, the Vicenza, and the Palladio. Bob & Jenny's Bed and Breakfast is another possibility; its rates include pickup at the train station. If you're staying for a few days or longer, try the Antico Palladio self-catering apartment.
For more listings, see Booking.com: Vicenza. (We suggest using these booking partners' maps, since a number of hotels in Vicenza are outside of the town center.)
Next page: Practical information for Vicenza
---
---