Venice > Sightseeing > Vicenza > Basilica
Vicenza
Page 2
Continued from page 1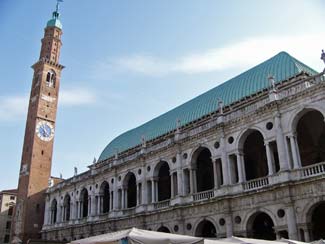 ABOVE: The Torre di Piazza and the Basilica, with the piazza's market stalls just visible in the foreground. INSET BELOW: Corner of the loggia; a mushroom vendor under the arcades.
Basilica (Palazzo della Regione)

Of all the structures in Vicenza that bear the mark of Andrea Palladio, none is more famous than the Palazzo della Regione, a.k.a. the "Basilica," a civic building that dominates the Piazza dei Signori in the heart of town.
The Basilica consists of two parts:
The original Gothic town hall, which was built in the mid-1400s. (You can see the roof, which resembles an overturned boat, in the photo above.)

Palladio's two-story loggia of white Istrian stone, which was wrapped around the existing brick structure over a 65-year-period from 1549 to 1614. (The loggia was needed to stabilize the town hall, which was sinking and in danger of collapse.)
Today, the old town hall is used for exhibitions, and you can visit it free of charge every day but Monday. (It's also closed for lunch and on Sunday afternoons during the off-season.)

The arcaded passages beneath the loggia are usually filled with people, and a produce market takes place daily on the southeast side of the Basilica in the Piazza delle Erbe. Things get really busy on Thursday, the biggest market day of the week, when the Piazza dei Signori and the arcades around the square are packed with farmers and other vendors.
Nearby, the Torre di Piazza (see top photo) rises over the Basilica and the square. The slender 11th and 12th Century brick tower, which stands 85 meters or 269 feet high, measures only 7 meters or 23 feet square at its base.