Venice > Hotel directions > AC Hotel Venezia
Walking directions to AC Hotel Venezia by Marriott (with map)
Click button for lowest available rates and guest reviews: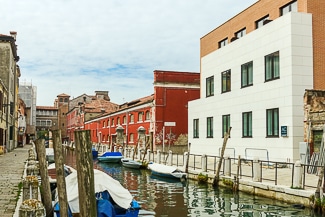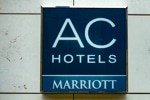 The AC Hotel Venezia by Marriott is a 79-room design hotel with a contemporary European vibe. Its main entrance lies directly on the Piazzale Roma, within a few steps of airport buses and the People Mover automated tram (which serves Venice's Marittima cruise terminals and the Tronchetto parking garage).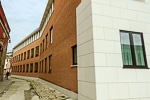 Most of the queen and twin rooms face a quiet pedestrian street along one side of the hotel or a landscaped courtyard, while "water view" queens overlook a Venetian canal (see top photo). The hotel is popular, thanks to its modern facilities and reasonable rates, so we suggest booking as early as possible.
Tip: See our illustrated review of the hotel, which is packed with captioned photos.
How to reach the AC Hotel Venezia from Piazzale Roma: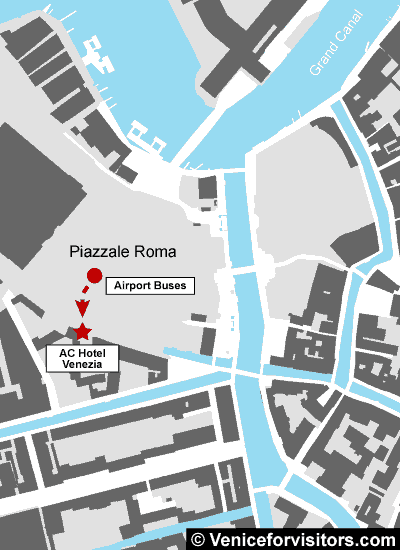 As you leave the airport bus or taxi, walk toward the large parking garage and the People Mover station behind the airport buses.

Cross to the People Mover station via the red crosswalk.

At the corner, cross the street again toward the Ca' Doge B&B and its "Autopark" parking entrance.

Go down the steps or the short driveway to the Autopark, bear left, and walk along the sunken street for a short distance.

Look for a modern white building with the name "AC HOTEL VENEZIA" above the entrance:
From the Marittima cruise terminals:
Take a free shuttle bus (if available), a taxi, or the People Mover elevated tramway (just outside the port entrance) to the Piazzale Roma.

Follow the directions above.
From the Santa Lucia railroad station: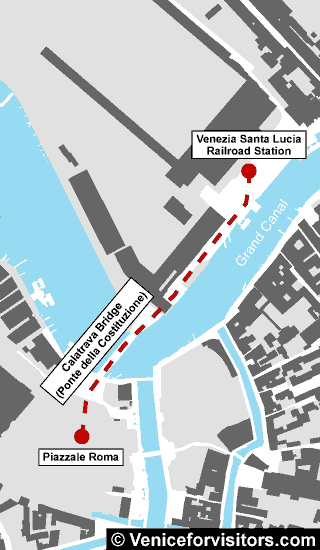 As you leave the station, turn right and walk past the large building to the Calatrava Bridge, a.k.a. the Ponte della Costituzione.

Cross the bridge to the Piazzale Roma.

Walk around the Piazzale Roma to the southwest side, where you'll find the AC Hotel Venezia.
Click button for lowest available rates and guest reviews:
---
---
---