Venice > Hotel directions > Hotel Airone
Walking directions to Hotel Airone (with map)
Click button for lowest available rates and guest reviews: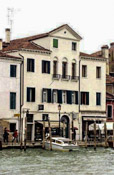 The two-star Hotel Airone faces the Grand Canal and the Santa Lucia Railroad Station. It's a bare-bones budget hotel, but its rates are reasonable for the location.
(Caveat: The hotel doesn't offer breakfast, but there are plenty of cafés nearby.)
How to reach the Hotel Airone from Santa Lucia railroad station: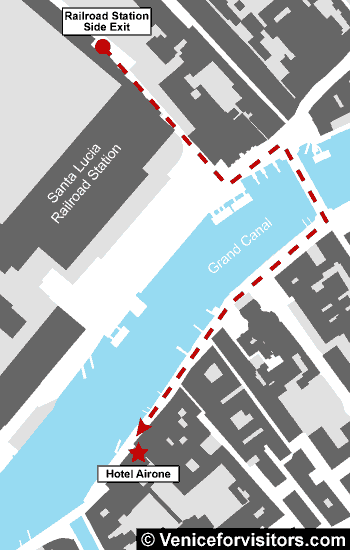 The most direct way to the Airone is over the Scalzi Bridge next to the train station. (Scroll the map down with your mouse or finger for a better view.)
As you leave the train station, turn left and walk the short distance to the Scalzi Bridge.

Cross the bridge.

Turn right as you leave the bridge and follow the fondamenta or waterside pavement to the Hotel Airone. The hotel is a minute or two from the bridge, beyond the Hotel Antiche Figure and the Carlton on the Grand Canal.
If you hate stairs and you're traveling with heavy luggage, you might want to consider a slightly longer but less strenuous route:
As you leave the station, turn right and walk past a large building to the Calatrava Bridge (a.k.a. the Ponte della Costituzione). This bridge has a gentler incline and is much easier to cross with luggage than the Scalzi Bridge.

Cross the Calatrava Bridge to the Piazzale Roma.

Follow the directions above.
From Piazzale Roma:
Walk to the tree-lined side of the Piazzale Roma where a red-and-white crosswalk from the central bus area feeds into a sidewalk through the trees.

Go through the trees, past the vendor stands, to a low stone bridge.

Cross the bridge. On the other side of the canal, turn left and walk along the fondamenta or sidewalk by the park.

When you reach the corner, continue around to the right.

Beyond the park, you'll reach a second small bridge. Cross it.

The Hotel Airone is a short distance after the bridge, facing the Grand Canal.
From the Marittima cruise terminals:
Take a free shuttle bus (if available), a taxi, or the People Mover elevated tramway to the Piazzale Roma. (The People Mover's glass-enclosed station is just beyond the port gates.)

Follow the directions from Piazzale Roma.
Click button for lowest available rates and guest reviews:
---
---
---