Venice > Hotel directions > Hotel Marconi
Walking directions to Hotel Marconi (with map)
Click button for lowest available rates and guest reviews: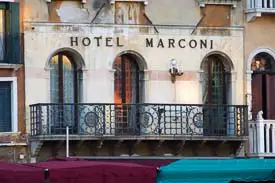 The three-star, 26-room Hotel Marconi is on the Grand Canal near the Rialto Bridge, on a stretch of fondamenta or sidewalk where you can dine at outdoor waterside restaurants year-round. From the hotel, it's a 15- or 20-minute walk to the Piazza San Marco and only a minute or two to the Rialto food markets.
Reaching the Hotel Marconi from the Alilaguna Linea Arancio airport-boat stop is simple, although it does require dragging or carrying your suitcase over the Rialto Bridge.
How to reach the Hotel Marconi from the Rialto airport-boat stop: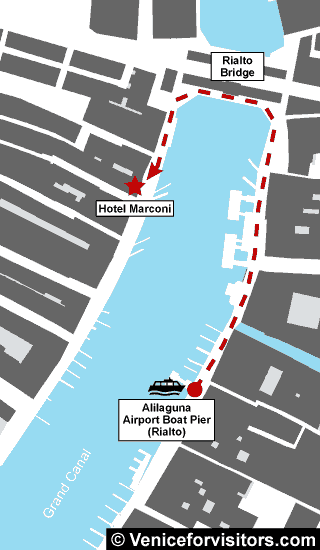 Leave the boat station, turn left, and walk toward the small bridge after the Palazzo Bembo.

Cross the small footbridge, go through the arcaded passage, and continue to the Rialto Bridge.

Turn left and cross the Rialto Bridge. (Take the center staircase, which is easier to navigate with luggage than the steps on either side.)

At the bottom of the Rialto Bridge, turn left immediately and walk along the water.

The Hotel Marconi will be several buildings ahead of you, facing the Grand Canal.
Click button for lowest available rates and guest reviews:
---
---
---