Venice > Hotel directions > Hotel Santa Chiara
Walking directions to Hotel Santa Chiara (with map)
Click button for lowest available rates and guest reviews: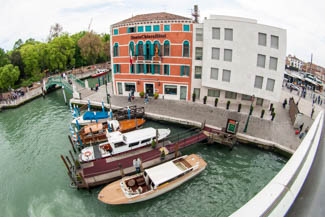 For convenience to airport buses, taxis, and the People Mover to the Marittima cruise terminals, the four-star Hotel Santa Chiara is hard to beat: It's at the northeastern corner of the Piazzale Roma, next to the Calatrava Bridge that leads to the Santa Lucia Railroad Station.
The hotel's reputation and location make it popular (especially among cruise passengers), so book well in advance if you want to be sure of a room.
How to reach Hotel Santa Chiara from the Piazzale Roma: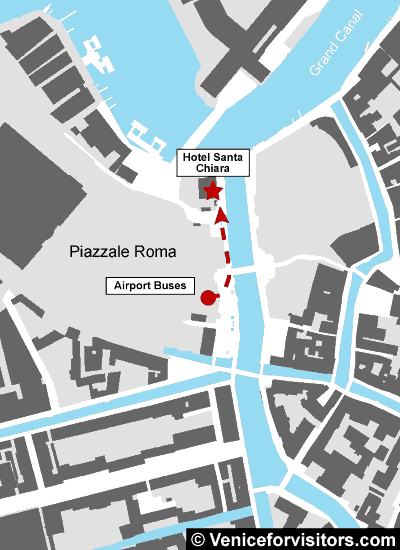 From the airport bus, taxi stand, or People Mover, walk toward the row of trees at the eastern end of the square.

Turn left and follow the sidewalk toward the hotel, which you'll see up ahead. (The old portion of the building is a rose-colored palazzo with blue shutters; a new light-grey wing is attached.)

Right before you reach the hotel, you'll see a paved ramp leading down to the water and an ambulance pier. Go down the ramp, turn left, and continue around to the front of the hotel (where you'll find the main entrance).
For even more details, see our Hotel Santa Chiara Video Walking Directions on YouTube:
From the Marittima cruise terminal:
Take a free shuttle bus (if available), a taxi, or the People Mover elevated tramway (just outside the port entrance) to the Piazzale Roma.

Follow the directions above.
From the Santa Lucia railroad station: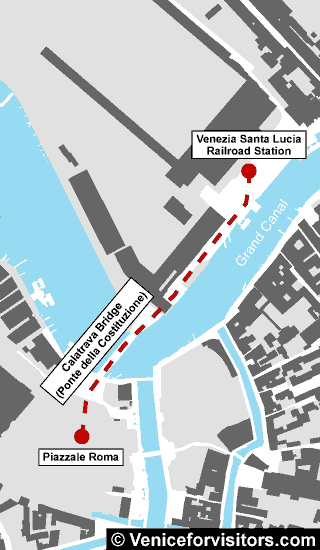 As you leave the station, turn right and walk past the large building to the Calatrava Bridge, a.k.a. the Ponte della Costituzione.

Cross the bridge to the Piazzale Roma. The Hotel Santa Chiara will be on your left, just a few meters from the bridge.
Click button for lowest available rates and guest reviews:
---
---
---