Venice > Local transportation > T1 Mestre-Venice tram
Mestre-Venice T1 Tram
ACTV Line T1 provides frequent, cheap service from the mainland district of Mestre to Venice's Piazzale Roma. Buy your ticket before boarding, and remember to scan it with the tram's electronic reader.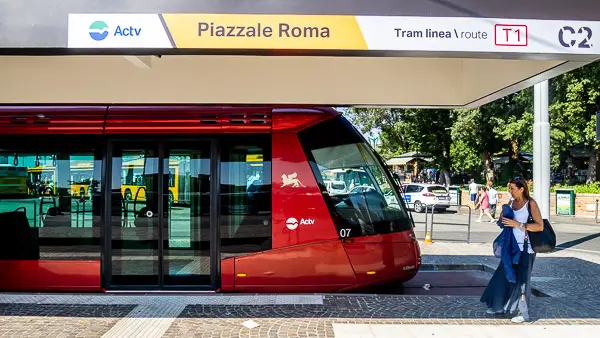 ABOVE: A T1 tram arrives at Piazzale Roma, the transportation gateway to Venice's historic center.
Mestre tram fare: €1,50 (Buy before boarding)
Venice's mainland district of Mestre, at the foot of the causeway that leads to the centro storico or historic center, has long been popular as a base camp for day trips to Venice.
Depending on your budget and mode of transportation, you may find Mestre appealing for two reasons:
Hotels in Mestre tend to be cheaper than hotels in Venice's historic center.

Mestre is car-friendly, which means you can park at your hotel and commute into the city center by public transportation.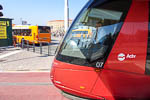 Until a few years ago, the most convenient ways to reach Venice from Mestre were by train (see our "Mestre to Venice by Train" article) or by ACTV city buses.
Now there's a third option: The ACTV's T1 Tram, which runs directly from the northern edge of downtown Mestre to Piazzale Roma on the edge of Venice's car-free historic center. (See map.)
The tram is convenient if you're staying at a hotel near the section of the T1 (red) line between the Piazzale Cialdini and Forte Marghera, which runs mostly along a major street called the Via San Marco.  Click here for hotel listings.
From our recommended hotels, you can reach Piazzale Roma in about 15 to 20 minutes, with trams running at 10-minute intervals throughout most of the day. (See timetable in PDF format.)
Buying tickets and riding the tram:
You don't need special tickets to ride the tram. Just buy ordinary (and cheap) bus tickets from ACTV offices or vending machines, your hotel receptionist, tobacco shops, and newsstands. (One ticket can hold multiple fares, so don't be surprised if you ask for several biglietti and receive only one lightweight card.)
To ride the tram, board via any set of doors and immediately hold your ticket against the nearest electronic reader until you see a green light flash and hear a "beep." Be sure to do this, since you can be fined heavily for riding without a validated ticket.
For a map of the T1 tram route, click here.
---
More photos: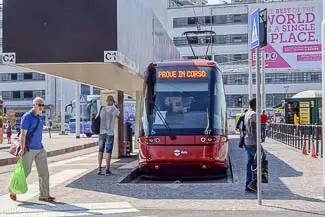 ABOVE: A T1 tram waits in the Piazzale Roma station. (The newsstand on the right side of the photo sells tram and bus tickets.)
Trams in Venice and Mestre are rubber-tired, with a single guiderail embedded in the pavement.
---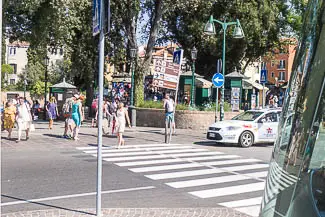 ABOVE: From the tram platform in Piazzale Roma, a zebra crossing leads to a stone footbridge. Cross the footbridge, and you'll be in Venice's centro storico or historic center.