Venice > Mestre-Marghera > Hotels > Venice tram line
Hotels on the T1 tram line to Venice
From: Venice Mestre & Marghera Hotels
Page 4
Continued from page 3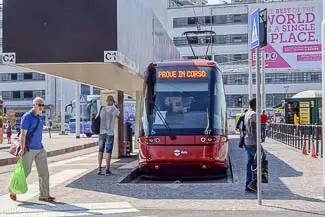 ABOVE: A T1 tram from Mestre arrives at Piazzale Roma, the gateway to Venice's historic center.
ACTV, Venice's transit authority, opened a new T1 tram line between Mestre and Venice's Piazzale Roma in September, 2015. (An older line, the T2, runs on a different route within Mestre and surrounding areas.)
A hotel along the T1 tram route is worth considering if you're traveling by car, because you can park your car in Mestre, jump on the tram, and reach Venice in 15 minutes or so. (Parking in Mestre is much cheaper than in Venice, and many of the hotels on this page offer free parking.)
If you've arriving or departing by air or rail, we suggest staying closer to the Venezia Mestre railroad station and its ATVO Fly Bus stop. (See our listings for Mestre hotels and Marghera hotels near the station.) Still, for air travelers, there is another option: Take the Venice airport bus from Marco Polo airport to Venice's Piazzale Roma, then catch a T1 tram to your hotel.
Please note:
Most of the hotels on this page are along the eastern half of the T1 tram line (the red line between Mestre Centro (Piazzale Caldini) and Venezia Piazzale Roma) on this map. You may need to walk two or three blocks from your hotel to the nearest stop.

Trams run about every ten minutes from early morning until late evening. ACTV has a timetable in PDF format that shows feriale (weekday) and festivo (Sunday and holiday) schedules. You can buy ACTV tram/bus tickets at tobacconists, newsstand, and most hotel reception desks. (Be sure to validate your ticket by holding it against the electronic reader after boarding.)

When you've clicked through to a hotel page from the listings below, click the "Check location" mini-map below the search box to see the hotel's exact location.
---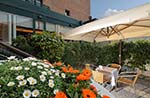 Elite Hotel Residence ****
Modest travelers might be turned off by the glass-walled baths in some rooms, but others will appreciate this 85-room hotel's wide choice of room types (including mini-apartments). The full-service hotel offers free Wi-Fi, free parking, a well-equipped fitness room, and a bar-restaurant on the premises.
---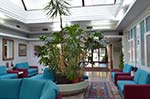 Hotel Alexander ****
Free parking and free Wi-Fi are standard at this hotel, which also has a bar and restaurant. Children under 8 stay free (if no extra bed is needed), and connecting double rooms are available.
---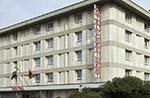 Hotel President ****
This 51-room hotel has a bland modern exterior, but if offers a number of appealing amenities, including a bar, free Internet access (both wired and Wi-Fi), and free parking.
---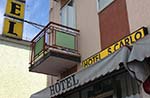 Hotel San Carlo ***
The San Carlo has 27 rooms, free parking, and free Wi-Fi. (Pets stay free, too.) A tram stop is close to the hotel, and you can buy tickets at the reception desk.
---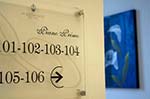 Hotel Ca' dei Baricoli ***
This hotel has 14 rooms. Free Wi-Fi is available in the lobby, and you can park your car on the premises for a fee. The Viale San Marco and the T1 tram line are only a few blocks away.
---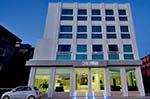 Hotel San Giuliano ***
The 55-room San Giuliano is directly across a canal from a newly-gentrified area of Mestre with marinas, offices, and a convention center. Unlike some of its competitors, it offers triples and quads in addition to the usual single and double rooms, and Wi-Fi is free. (No parking is available, so skip this hotel if you're traveling by car.)
---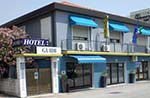 Hotel Guidi **
The Guidi is close to a T1 tram stop, and it's next to a small canal. The two-star hotel has 17 single, double, triple, and quad rooms with free Wi-Fi, and Booking.com's guest surveys have elicited praise for the friendly staff. Parking is available for a fee.
---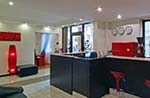 Hotel Delle Rose **
This two-star hotel has 26 rooms, a patio where breakfast is served in good weather, and free Wi-Fi. Parking is available for a fee.
---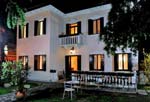 Villa Crispi
This B&B is housed in a traditional villa. It has 10 rooms, free Wi-Fi, and free parking. The villa is located slightly north of Piazzale Cialdini, the hub of Mestre's two tram lines. (When you catch the tram, be sure to board the T1 to Piazzale Roma.)
---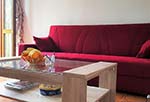 B&B Giada
The Giada is tiny--it has only three rooms--but a shared kitchen is available, and so is free parking.
Next page: Hotels in central Mestre (and beyond)
---
---
---
About the author:

Durant Imboden has written about Venice, Italy since 1996. He covered Venice and European travel at About.com for 4-1/2 years before launching Europe for Visitors (including Venice for Visitors) with Cheryl Imboden in 2001.

PC Magazine has called this "the premier visitors' site for Venice, Italy." Over the years, it has helped more than 30 million travelers. For more information, see About our site, our Europe for Visitors press clippings, and our reader testimonials.
---