MS Maribelle (Archived Review)
By Durant Imboden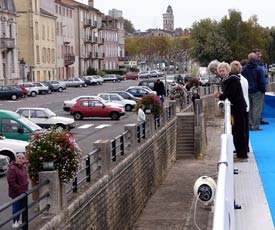 ABOVE: The MS Maribelle arrives in Macon, France, within walking distance of sights and shopping.
Overall value
Continued from: Service
In 2005, a Burgundy and Provence cruise with shore excursions will cost you US $1,399 to $3,099, depending on cabin category and when you travel. Viking can also provide transatlantic air fare at extra cost, with connections from Paris to Lyon and Marseille to Paris on Air France.)
Viking's cruises on the Rhine, Danube, and other European rivers offer similar fares and air/transfer packages. (Add-on land extensions are available, or you can combine a river cruise with a do-it-yourself land vacation.)
Doing the math: Crunch the numbers, and you'll see that the "per diem" or daily cost ranges from about a low-season, cruise-only minimum of $200 to a high-season maximum of $543 to $571 with air fare from the U.S. These fares include everything except tips and drinks. For your money, you're getting the equivalent of a deluxe group tour with meals in top-quality restaurants--plus time spent cruising along some of Europe's most beautiful waterways.
Is the expense worth it? Most of the passengers on our MS Maribelle cruise seemed to think so. Also, river cruising attracts repeat customers, particularly among older voyagers who enjoy the "unpack once" convenience of river travel.
Bottom line: If you can afford it, if you aren't a loner, and if you prefer sightseeing to sea days, a river cruise can be a delightful way to tour the inland regions of Europe--especially if you travel outside the hot, crowded summer months of July and August.
Next page: Viking River Cruises Web links
---
---
---
---