Avignon
From: Viking River Cruises: Southern France cruise review
By Durant Imboden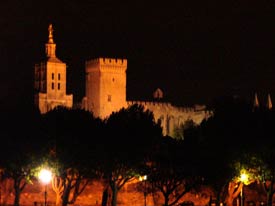 ABOVE: Avignon's Palace of the Popes was the headquarters of the Catholic Church in the 14th Century after the papacy was moved from Rome to France.
MS Maribelle left Viviers during the early morning hours and passed through five locks in the next 30 miles or 50 km, reaching Avignon at 8 a.m..
Avignon is a city of 90,000 in a metropolitan area of 400,000, but most of its sights are located within the historic center. The city is classified as a UNESCO World Heritage Site, thanks to its well-preserved medieval walls and some 150 listed historical monuments.
Although the city's history goes back at least 6,000 years, its heyday was during the 1300s when seven popes made Avignon the seat of the Roman Catholic Church.
The Palace of the Popes was the highlight of MS Maribelle's morning walking tour. Our group spent nearly two hours in the Palais des Papes, which grew from a bishop's palace into a massive fortified complex over the next 150 years. Unfortunately, most of its original furnishings were lost or burned over the centuries, but some of the rooms are quite impressive: among them, the bedchamber of the popes, whose walls are decorated with 14th Century frescoes of birds, squirrels, hunters, fishermen, and vines against a sky-blue background.
During the afternoon (which had no scheduled cruise activities), my son and I walked to the Pont d'Avigon and found our way through a door in the ramparts that led up to a viewing terrace and the Rocher des Domes, the city's public gardens on a bluff overlooking the Rhône.
From there, it was a short walk past the Palace of the Popes to the city center, which offered plenty of opportunities for strolling, shopping, and buying pains au chocolat at pastry shops.
For more information on Avignon, the Papal Palace, and the city's world-renowned festival of theatre, dance, and music, see:
Cruise Photos: Avignon europeforvisitors.com
These are from the 169 images in our MS Maribelle Photo Gallery.
Popes' Palace (Palais des Papes)
Next page: Les Baux de Provence
---
---
---
---
"Best of the Web"
- Forbes and The Washington Post

Click or tap photos for cruise reviews:
---
Also see:

Venice for Cruisers
Getting to or from your ship, Venice hotels for cruisers, the Marittima and San Basilio piers, and more.

Rome for Cruisers
Trains to and from the port, plus a 35-page Civitavecchia city and port guide.
---
From Durant and Cheryl Imboden:

About Our Sites

Privacy and Cookies
---
Advertisement: