MS Maribelle (Archived Review)
By Durant Imboden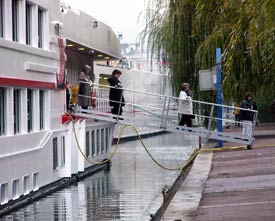 ABOVE: MS Maribelle passengers go ashore in Lyon, France.
Shore excursions
Continued from: MS Maribelle dining
On most river cruises, shore excursions are included in the fare. The MS Maribelle follows this tradition by offering walking tours or bus excursions in nearly every port of call.
Because the ship offers the same "French Vineyards & Vistas" itinerary every week from late spring through fall, the tours operate smoothly and (in our experience) the guides are first-rate.
Bus tours. On days that offer bus excursions, the ship's hired coaches will arrive alongside the mooring place after breakfast for an 8:30 or 9:00 a.m. departure. (The buses follow the ship's itinerary, so passengers have the same bus and the same driver every day.)
Walking tours. On other days, passengers meet at quayside for guided walking tours. (We normally had three to four guides for 116 guests.)
Free time. Tours generally return to the ship in time for lunch. Afternoons are usually free for independent sightseeing or shopping, except on days when the ship departs at lunchtime for an afternoon of cruising to the next city or town.
Port briefings. During our trip, cruise manager Marc Sullivan presented slide shows on upcoming ports and excursions while the MS Maribelle cruised down the river. He told and showed us where the ship would moor, what the city or town had to offer, and what the tours would include. Later, before dinner, he offered shorter briefings for passengers who'd missed the afternoon slide shows. (He was always careful to mention important details like "Watch for the bollards along the quayside--they have a nasty way of colliding with your shins!)
Tips on tipping. It's customary to tip local guides on shore excursions. I'd recommend tipping € 2-3 for each tour, or € 5 if you're a couple traveling together. Just say "Thank you" and press the money into the guide's hand discreetly as you leave the bus. (Also remember to tip your driver about € 10 per person on the last excursion of the cruise.)
Note: I saw many passengers tipping in American dollars, but it's much more thoughtful to tip in local currency--except in Eastern Europe, where guides normally prefer "hard currencies" such as the euro or the U.S. dollar.
Next page: Service
---
---
---
---