MS Maribelle (Archived Review)
By Durant Imboden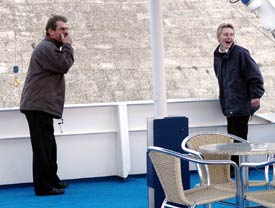 ABOVE: Captain Michel Fortier and Second Captain Sandrine Duwell enjoy a laugh on the Sun Deck.
Service
Continued from: Shore excursions
The MS Maribelle has a crew of about 35, of which slightly fewer than 30 are charged with the care and feeding of up to 154 guests. This is a fairly low crew-to-passenger ratio, but it's more than adequate for a vessel that lacks the multiple dining rooms and bars, spa, beauty parlor, casino, production shows, etc. that you'd find on oceangoing resort ships.
During our week aboard the MS Maribelle, my son and I were impressed by the friendliness, warmth, and dedication of the crew--from the French-speaking captain and his second-in-command, who took turns doing everything from steering the ship to operating the gangway hoist, to the lowest-ranking members of the hotel staff.
Christian Hillebrand, the German hotel manager, projected a calm authority despite crises that included two medical emergencies. ("I know 300 doctors in France," he confided after a cardiac patient was whisked away to a hospital by an ambulance in Vienne.) Despite being the boss, Chris helped the service staff with baggage loading and unloading. He also found time to give a lecture on shopping and wines, and to co-lead a nighttime walking tour of Viviers with:
Marc Sullivan, the British cruise manager, who displayed an unflappable patience in organizing activities, coordinating shore excursions, and answering questions for 116 passengers. Marc's port briefings, lectures, and French lessons were enhanced by a dry wit and the experience he'd gained through years of living in France.
About tipping:
In its "Departure Information and Itinerary" booklet, Viking suggests gratuities of US $10 or € 10 per day for the shipboard staff and crew. Tips are placed in an envelope and dropped into a locked box at the reception counter, to be distributed among the staff at the end of the cruise.
You're also welcome to give extra tips to any crew members who provided exceptional or special service, and I'd suggest giving something extra to your housekeeper and any waiters or bar staff who served you frequently during the cruise. The ship's crew work long hours seven days a week, and they earn most of their annual income during a short six- or seven-month season.
If you're spending several thousand dollars on a cruise, why not round up the pooled tip to € 100 or so per person and give something extra to those who especially deserve it? Being generous will make you feel good, and it could mean a new pair of shoes for a waiter's child or a nicer Christmas for your stewardess's family.
Next page: Overall value
---
---
---
---