By Durant Imboden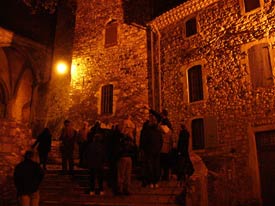 ABOVE: One of the high points of the cruise was a guided night walk through the medieval (and largely abandoned) town of Viviers.
Viviers, France
Continued from: Vivarais Railroad
The MS Maribelle sailed from Tournon sur Rhône at 12:30 p.m. and arrived in Viviers around 6 p.m. The quay was about a 10-minute walk from the town along a tree-lined promenade.
Viviers consists of a lower town, where tradesmen and artisans once lived, and an upper or religious town that was the seat of a bishop during the Middle Ages and the Renaissance The upper walled town is an attractive warren of narrow cobbled streets with stone houses, a cathedral, and a castle terrace that offers spectacular views of the rooftops and river below.
After dinner, hotel manager Chris Hillebrand and cruise manager Marc Sullivan took passengers on a nighttime walking tour of the upper town (see photo above). With fewer than 3,000 inhabitants in a city that once had more than 30,000, Viviers is eerily quiet at night. It's also in remarkably good condition for what is practically a ghost town, thanks to money that the French government has supplied for renovation and infrastructure. (The town looks ripe for gentrification; all it needs is a handful of rich Parisians or foreigners to generate buzz and start a real-estate boom.)
For more information on Viviers, which has been capital of the Vivarais region since the 5th Century, see:
Cruise Photos: Viviers europeforvisitors.com
These are from the 169 images in my MS Maribelle Photo Gallery.
Tourisme à Viviers
This illustrated page from the Office de tourisme de Viviers is in French, but you can translate with FreeTranslation.com.
Next page: Avignon
---
---
---
---