Paris Sightseeing Buses
Page 2
Continued from page 1
By Durant Imboden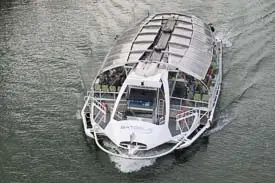 ABOVE: The Batobus is a "hop on, hop off" water bus on the River Seine.
Batobus water bus
Compagnie des Batobus operates five trimaran sightseeing boats, with eight stops along a circular route that covers both the left and right banks of the Seine:
Left Bank: Tour Eiffel, Musée d'Orsay, Saint-Germain-des-Pres, Nôtre-Dame, Jardin des Plantes.
Right Bank: Hôtel de Ville, Louvre, Champs-Elysées.
From these stops, you can easily reach the leading sights in central Paris. You can hop on and off the boats as often as you like.
Fares: The last time we checked in spring, 2013, adult fares ranged from €15 (one-day pass) to €21 (five days), with lower rates for children. Substantial discounts are available to holders of student, RATP, or SNCF cards. If you decide to settle in for a long stay, you can buy an annual pass.
Where to buy passes: At any Batobus stop, at the Paris Tourist Office, and at several other locations that are listed on the Batobus Web site.
When the boats run: Every 20 to 35 minutes year-round. (Boats operate from 10 a.m. until 9:30 p.m. from early April until early September, and from 10 a.m. to 7 p.m. the rest of the year.)
Back to: Paris sightseeing buses
---
---
---