Paris Sightseeing Buses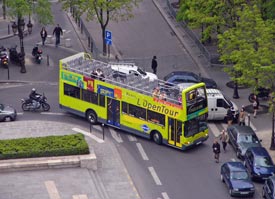 ABOVE: A bus of L'OpenTour swings past Nôtre-Dame Cathedral on the Île de la Cité. INSET BELOW: A double-decker of Les Cars Rouges.
By Durant Imboden
L'OpenTour and Les Car Rouges
If you're in Paris for only a short time, or if your body won't withstand hours of walking every day, a traditional escorted bus tour is a great convenience. Our advertising partner, Viator, offers a variety of tours and excursions in Paris and the surrounding area. Prices are in euros, British pounds, U.S. dollars, or Australian dollars.
Independent travelers often turn up their noses at guided tours, preferring to travel on foot, by Métro or RER trains, or on city buses. (We share their preference.)
Nowadays, a third option offers a compromise between convenience and independence: the "hop on, hop off" sightseeing bus.

Double-decker buses of L'OpenTour and Les Cars Rouges follow set routes with stops at leading museums and tourist attractions. For a fixed price, you can step off a bus, explore an attraction or neighborhood at your leisure, and catch another bus when you're ready to move on. As a bonus, you can put on headphones and listen to a running commentary between stops.
The green-and-yellow buses of L'OpenTour cover four sightseeing routes: "Paris Grand Tour," "Bastille-Bercy," "Montmartre-Grands Boulevards," and "Montparnasse-Saint Germain." A single pass gives you access to all four routes. (You can book ahead through Viator if you wish, but it's just as easy to buy a pass on the bus or at one of L'OpenTour's sales outlets in Paris.)
The red-and-white buses of Les Cars Rouges cover only one route, which stops at nine locations in the city center. You can buy your pass on the bus or save 10 percent by ordering online.
Language note: Les Cars Rouges has narrations in nine languages: French, English, Spanish, Italian, German, Japanese, Russian, Chinese (Mandarin), and Brazilian Portuguese. L'OpenTour's commentaries are in 10 languages: French, English, Spanish, Italian, German, Portuguese, Russian, Czech, Chinese (Mandarin), and Japanese.

Prices: Les Cars Rouges are a bit cheaper than L'Opentour, since the red buses have only one route. On the other hand, L'Opentour offers a two-day pass for only a few euros more than a one-day pass, so it's a better deal if you're in Paris for a couple of days. For details on current prices and discounts, see the companies' Web sites.

Waiting times: You'll spend less time looking at your watch with Les Cars Rouges: The red buses operate at 10-minute intervals during the summer and every 20 minutes during the winter, compared to a frequency of 10-25 minutes (high season) or 30 minutes (low season) on L'Opentour's four routes.

If you prefer water to asphalt: Try the Batobus (see next page), which extends the "hop on, hop off" concept to the Seine.
Next page: Batobus water bus
---
---
---