Ciampino Airport - Civitavecchia by Train
How to reach Rome's cruise port from Ciampino Airport (CIA) by public transportation.
From: Civitavecchia (Port of Rome)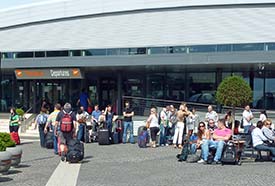 ABOVE: Travelers wait for a Terravision coach outside Ciampino Airport's arrivals and departures terminal.
By Durant Imboden
To reach the Port of Rome at Civitavecchia by public transportation from Ciampino Airport (CIA), you'll need to make the journey in two steps:
From Ciampino Airport to Rome's Termini Station by coach, or or local bus and Metro.

From Termini Station to Civitavecchia by train.
(If you're traveling in the other direction, simply reverse the steps.)
Total travel time is anywhere from two to three hours, depending on your transportation choices and how long it takes you to make the connection at Termini Station. Fares are reasonable: €10 or less for the entire journey.
To plan your trip, please see these articles at Rome for Visitors:
For articles about Civitavecchia and its cruise port, please go to our Civitavecchia (Port of Rome) index page.
Tips:
If you're pressed for time, or if you're traveling with excessive luggage, you may want to consider splurging on a coach transfer from your cruise line or a private car transfer between the airport and cruise port.

Civitavecchia is an attractive seaside resort, and if you're flying in from North America or another distant continent, we recommend spending a night in the town before your cruise. (Several hotels, including the comfortable four-star Hotel de "La Ville," are along the 200m waterfront walk between the railroad station and the port entrance.)
Back to: Civitavecchia (Port of Rome) Index
---
---
---
---

"Best of the Web"
- Forbes and The Washington Post
---

Guaranteed lowest rates from
Europe's No. 1 booking service:

All places to stay in Rome

Romantic & honeymoon hotels

Luxury hotels

Budget hotels

Airport hotels (Fiumicino)

Cruise hotels (Civitavecchia)
---

Staying a few days or longer?
Live like a local and save:

Rome vacation apartments
---

Also see our Venice trip-planning sites:
Venice for Visitors
"The premier visitors' site for Venice, Italy."
- PC Magazine
QuickVenice
All the basics for shorter trips.
---
---

From Durant and Cheryl Imboden:

About our site