Rome Sightseeing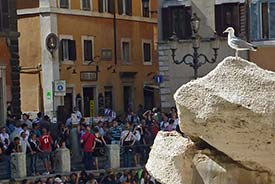 ABOVE: A seagull surveys a crowd of tourists at the Trevi fountain.
---
---
Custom Search
"Best of the Web"
- Forbes and The Washington Post
---
---



Looking for a hotel in Rome?


Venere, Italy's leading booking service, offers discount rates at more than 1,500 hotels, B&Bs, and other places to stay in Rome and towns nearby.


Click for hotel listings, rates, and reviews.
---
Related site:

Venice for Visitors
"The premier visitors' site for Venice, Italy."
- PC Magazine
---
---