Tiber River Sightseeing Cruises
Battelli di Roma Boats on the Tevere
By Durant Imboden
The Tiber (Tevere in italian) is Rome's answer to the Thames, the Seine, or the Hudson--or maybe those rivers are the answer to the Tiber, which was already an important commercial waterway more than 2,000 years ago, during the Roman Republic and the early years of the Roman Empire.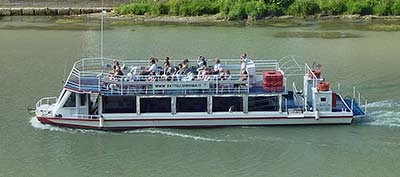 ABOVE: The Cornelia, a sightseeing boat that carries 102 passengers, cruises along the Tevere on a warm day in early September.

In its heyday, the Tiber (Italy's third-longest river) was navigable for a distance of 100 km or 60 miles from the Tyrrhenian Sea and the port of Ostia. Over the centuries, the shallow river became clogged with silt, and port activities moved to the seacoast. The Tiber nevertheless remains deep enough in Rome (a 3.5 to 5.5 meters, or 12 to 18 feet) to accommodate sightseeing boats--most notably the fleet of Battelli di Roma, which offers cruises on the river year-round.
The last time we checked, Battelli di Roma offered three basic itineraries:
A

"Hop-on, Hop-off"

cruise with two boarding and disembarkation points: at the foot of the

Sant'Angelo Bridge

(across from the Castel Sant'Angelo), and at

Isola Tiberina

or Tiber Island, near the Trastevere district. The cruise includes an audioguide in seven languages, departs at intervals of 35 to 60 minutes (depending on the season), and lasts one hour.
A

Dinner Cruise

on Thursdays, Fridays, and Saturdays in high season (mid-April to late October) and on Friday or Saturday from December 1 to mid-April. The cruise leaves the Sant'Angelo boat landing at 9 p.m. and lasts about 2 hours 10 minutes.
A

Wine Bar Cruise

of 2 hours 15 minutes on most Thursdays, Fridays, and Saturdays, departing from Ponte Sant'Angelo at 9 p.m. The cruise includes a glass of wine, cold cuts, and dessert.
In addition, Battelli di Roma sometimes runs cruises to the ruins at Ostia Antica (2½ hours away by boat), as does Gite sul Tevere.
For up-to-date information in English and an e-mail contact address, visit www.battellidiroma.com.
To view photos and a video of the company's tour boats, go to page 2 of this article.
Next page: More Battelli di Roma photos
---
---

"Best of the Web"
- Forbes and The Washington Post
---

Guaranteed lowest rates from
Europe's No. 1 booking service:

All places to stay in Rome

Romantic & honeymoon hotels

Luxury hotels

Budget hotels

Airport hotels (Fiumicino)

Cruise hotels (Civitavecchia)
---

Staying a few days or longer?
Live like a local and save:

Rome vacation apartments
---

Also see our Venice trip-planning sites:
Venice for Visitors
"The premier visitors' site for Venice, Italy."
- PC Magazine
QuickVenice
All the basics for shorter trips.
---
---

From Durant and Cheryl Imboden:

About our site