Berlin Food and Drink
From: Berlin city guide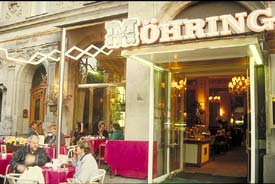 ABOVE: The Café Möhring was popular with Berliners and tourists for more than a century until high rents and changing tastes began killing off the coffeehouses of the Kurfürstendamm.
Restaurants
Happy Cow: Berlin (Vegetarian)
Five vegetarian restaurants and 13 health-food stores were listed here when I last checked. All but one of the restaurants are "vegan-friendly."
Kosher Restaurants and Shopping in Berlin
About half a dozen restaurants, cafés, snack bars, delicatessens, and grocery stores are listed here.
Bars and Cafés
Berlin Pubs
Ron Pattinson introduces Berlin beers and suggests good places to sample the local brews.
---
---
---
---
---