Berlin Practical Information
From: Berlin city guide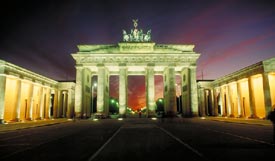 ABOVE: Brandenburg Gate, Berlin.
Disability Travel
Sage Traveling: Disabled Access in Berlin
These pages are from Sagetraveling.com, a compendium of accessibility information for dozens of cities in Europe.
Maps
Stadtplandienst
Click the mini-map or use the navigation arrows to explore the city with a series of tiled maps.
Lonely Planet - Berlin Map
This map isn't detailed, but it shows the major sights.
Berlin Wall City Maps
If you're too young to remember "West Berlin" and "East Berlin," these maps will show you how the city was divided in 1961 and what East Berlin looked before the Wall came down.
Money
See our Money and Currency Index for advice on using cash, ATM cards, credit cards, and traveler's checks abroad.
Weather
Weatherbase: Berlin
Check month-by-month temperatures and other climate data in metric or Imperial units.
---
---
---
---
---