Berlin Hostels and Camping
From: Berlin city guide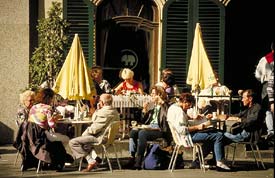 ABOVE: A café on the Kurfürstendamm, where you can spend the money that you save by staying in a hostel.
Official Youth Hostels
DJH Berlin-Brandenberg
The region's Hostelling International affiliate has three hostels in Berlin and another half-dozen in the suburbs. They're open to tourists of any age, although guests under 26 get cheaper rates. If you don't have a membership card from your national hostel association, you can buy a guest membership upon arrival. The hostels are:
Jugendgästehaus (JGH-Berlin)
The International Jugendbegegnungszentrum Berlin Mitte is 15 minutes from the center of town by public transportation. It accommodates 228 guests in rooms of 2, 3, and 4 beds, all with private shower and toilet. Linens and towers are included in the price.
Privately-Owned Hostels
Adler
The Hostel Adler's 23 rooms have 1 to 6 beds each, with showers and toilets on each floor. Rates are quite reasonable, and the location is convenient: next to an underground station in the Friedrichstraße.
Circus the Hostel
Circus operates two hostels in Berline Mitte: One near the Rosa-Luxembourg-Platz, and the other at the Rosenthaler Platz. The latter offers apartments with private facilities in addition to hostel rooms.
CityStay
"More central than Citystay is only possible if you manage to sleep under a table in the revolving television tower," claim the owners of this hostel in Berlin-Mitte, which opened in April, 2005. Rooms in the stylishly renovated loft-style building have one to eight beds each, and separate bedrooms for women are available on request.
Clubhouse
"Berlin's most central hostel" is between the Oranieneburgstrasse and the River Spree, in an area of nightclubs and bars. Rooms, dorms, and rental lines are available.
Globetrotter Hostel Odyssee
The Odyssee is in East Berlin, near the Frankfurter Tor. Rooms and dorms are available (many with eye-popping decorating schemes), sheets are free, and--as often is the case in Berlin--the bar never closes.
Hubertusallee
From March through October, this is a hotel/hostel for budget tourists of any age; the rest of the year, it's occupied by university students. All rooms have toilet and shower. The Hubertusallee is about half an hour west of the center in the Grunewald.
Lette'm Sleep
This hostel is in the trendy eastern district of Prenzlauer Berg, one of the few sections of Berlin that wasn't badly damaged in World War II.
Meininger City Hostels
Choose from four hostels in Berlin. Rates include taxes, sheets, and a buffet breakfast. (The Meiniger group also has hostels in London and other German cities.)
Mitte's Backpacker and Baxpax Hostels
Mitte's, near the city center, is 2 minutes from a cheap student cafeteria and Mensa; Baxpax is a factory-turned-hostel in the Kreuzberg district.
Pegasus Hostel
The former "Frederik's Hostel" occupies a building that was built as a boarding school for Jewish girls. Rooms have 1 to 8 beds, and there are two apartments. The Pegasus is in the lively eastern neighbhorhood of Friedrichshein.
Sunflower Hostel
This hostel is one S-Bahn stop away from the Ostbahnhof railroad station and about 15 minutes from Berlin-Mitte by public transportation. Rooms and dorms are available; sheets are free.
Transit International Youthhotel
You'll need good hand-eye coordination to navigate the menu of the Hotel Transit's Web site, but give it a try. The hotel hotel is in the Kreuzberg district and has both rooms and dormitory beds; breakfast is included in the rates. (The same management operates the Transit Loft in Prenzlauer Berg.)
Camping
BerlinInfo: Camping
This English-language page has descriptions of five campgrounds within commuting distance.
---
---
---
---
---