Berlin Gay and Lesbian Travel
From: Berlin city guide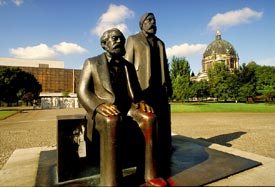 ABOVE: A statue of Karl Marx and Friedrich Engel in the former East Berlin, defaced with red paint.
Berlin has been Germany's gay capital since the late 19th Century, when a thriving homosexual subculture included everything from gay bars to a Lesbian bowling club. The Third Reich brought hard times for gays and lesbians, but today die Szene is as lively as it was a hundred years ago, and Berliners have elected Germany's first openly gay mayor.
Practical information
Berlin Gay Guide
These pages are from Gay Guide Europe (a.k.a. Patroc.com), which has local gay guides for nearly two dozen cities in Europe.
Berlininfo.com: Gay & Lesbian Berlin
Get an overview of Berlin's GLTB scene, then click the district links to discover hot spots in Kreuzberg, Schöneberg, Friedrichshein, Prenzlauer Berg, and the Nollendorfplatz.
OutGoing Europe: Berlin
This page from OutUK is another good introduction to the capital for gay visitors.
Siegesäule
Berlin's gay-lesbian online magazine is named after the city's victory column (wink, wink).
Gay accommodations
Bed & Breakfast Webring: Gay Accommodations in Berlin
Gay hosts offer private B&B lodgings in their apartments.
---
---
---
---
---