Berlin Parks and Children's Activities
From: Berlin city guide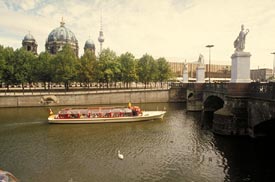 ABOVE: A sightseeing boat in Berlin.
Zoologischer Garten Berlin
The Berlin Zoo's pages are mostly in German, but you can translate with Google. The Web site has three main sections:
Botanical Garden and Museum
See the Seasons in the Garden page for information on what to expect at different times of the year.
Berlin Parks
This page from Berlinfo.com lists two parks in addition to the Zoo and Botanical Garden.
Kinder- und Jugendfreizeitcenter Wuhlheide
More than a million visitors from school groups and families come to this suburban recreation center each year for sports, swimming, Internet surfing, theatre, music and other activities. The FEZ Wuhlheide's site is in German, but you can translate with Google.
Prussian Palaces and Gardens Foundations
The Stiftung Preussische Schlösser und Gärten Berlin-Brandenberg describes Potsdam's park landscape, palaces in Berlin, and palaces in Brandenburg.
---
---
---
---
---