Berlin Photos and Webcams
From: Berlin city guide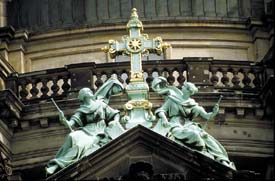 ABOVE: Detail of the Berliner Dom.
Photos
Berlin Mitte: Explorations of an Urban Conversion
Ulrich Wüst's 256 photographs show the evolution of central Berlin from a divided city into the unified Mitte of today.
Berlin Photos (One)
Some of these photos are personal, but don't let that stop you from viewing them or Berlin Photos (Two) from lisawhiteman.com.
Stadtfuehrer Berlin
Even if you don't read German, you can browse the photos on the pages of this German-language history and sightseeing guide.
Berlin Photos 1989-1999
This photo album by Ian J. Sanders focuses on the Berlin Wall and East Berlin.
Old Berlin
Vintage postcards show the German capital of yesteryear.
The Berlin Wall: Photos
In addition to photos, Berlin Wall Online has a detailed history of the Wall.
Zanzig.com: Berlin Photos
Mark Zanzig of Munich presents a gallery of travel photos from Berlin (and other cities as well).
Webcams
Cityscope
This panoramic image shows the Potsdamer Platz. You can also view the Ku'damm and Spreebogen.
DHM Webcams
The Deutsches Historisches Museum operates three rooftop cameras.
---
---
---
---
---