Berlin History
From: Berlin city guide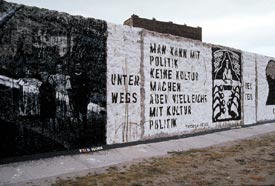 ABOVE: Berlin Wall Memorial.
History Berlins
Chronik-Berlin.de offers a German-language history of Berlin with photos and other illustrations. Translate with Google.
Berlin Airlift
When the Soviets closed Berlin to road and water traffic in 1948, the West broke the siege by flying supplies to beleaguered Berliners for 11 months.
Berlin Wall
The Berlin Wall was erected in 1961 and torn down in 1989. After you've read this Wikipedia article, visit Berlin Wall Online for more information, photos, and other resources.
Berlin and the Two Germanies, 1945-1989
Adolph N. Hofmann created this presentation, which is followed by German Unification: Five Years After.
---
---
---
---
---