Emerald Waterways cruise review:
Nuremberg-Trier
Page 4
Continued from page 3

ABOVE: A panoramic view of Cabin 217. (Click here and maximize your browser window for a larger image.)
---
Cabins and suites
Like its sister ships (Emerald Sky, Emerald Dawn, Emerald Sun, and Emerald Destiny), Emerald Star has 72 suites and 20 staterooms.
Panorama Balcony Suites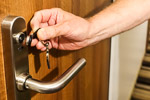 The most common type of suite aboard Emerald Star is the Panorama Balcony Suite, which Emerald Waterways describes as "a completely new type of cabin that's unique to European river cruising." The floor area is 16.7 square meters or 180 sq. ft.
In Emerald's Panorama Balcony Suites, the entire outside wall of the cabin is made of glass. When you lower the upper half of the glass wall by pushing a button, the air conditioning shuts off and the whole cabin feels like part of the outdoors. You can sit in one of the two chairs or lie in bed and enjoy fresh air as the ship cruises along the river.
After spending a week in a Panorama Balcony Suite, we think the concept is brilliant, for two reasons: It brings the outdoors inside during nice weather, and it means valuable cabin space isn't sacrificed to an exterior balcony that's unlikely to be used on chilly or rainy days.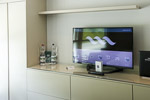 Speaking of space, our Panorama Balcony Suite (No. 217) felt larger than any other standard cabin that we've encountered on a river ship--partly because it didn't give up floor area to an outside balcony, but also because of design features such as a wide chest of drawers with plenty of counter space. (The closet was a bit cramped, however, since the interior space was shared with a minibar and safe.)
As a bonus, our cabin had a shelf on the wall above the bureau that could be used for hats and other items.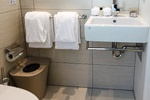 The bathroom was surprisingly spacious, with two big medicine cabinets and a large glass-doored shower stall with a retractable clothesline. (We would have liked a shelf above the sink and storage shelves underneath, however.)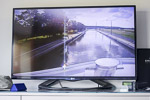 Standard cabin amenities included a decent array of toiletries in the bathroom, bathrobes and slippers, bottled water (both natural and fizzy), a large TV that we used mostly to enjoy bowcam views of the river, and free Wi-Fi.
Note: Panorama Balcony Suites come in a number of different price categories, depending on whether they're on the Horizon or Vista Deck and how close they are to public areas such as the Horizon Lounge.
Grand Balcony and Owner's One Bedroom Suites
If you want more space and amenities, you have two options:
Grand Balcony Suites measure 19.5 square meters (210 sq. ft.). Each suite has its own Nespresso machine.

Owner's One-Bedroom Suites have a total area of 29.3 square meters (315 sq. ft.), with a separate bedroom. Minibar drinks are complimentary.
In both Grand Balcony Suites and Owner's One-Bedroom Suites, guests can order a complimentary in-room continental breakfast, pre-dinner canapés, and after-dinner sweets.
Emerald Staterooms
Emerald Staterooms have a floor area of 15 square meters or 162 sq. ft. They're located on the Riviera Deck, just above the waterline. Standard Emerald Staterooms are nearly identical to Panorama Balcony Suites, except that the glass wall is replaced by a solid wall with a narrow strip window near the ceiling. (The ship also has two Emerald Single Staterooms of 11 square meters or 117 sq. ft.)
You'll save money if you book an Emerald Stateroom, but unless you plan to spend nearly all of your cruising hours in the public rooms or asleep, we recommend splurging on a Panorama Balcony Suite.
Next page: Dining and lounges
---
---
---