Emerald Waterways cruise review:
Nuremberg-Trier
Page 6
Continued from page 5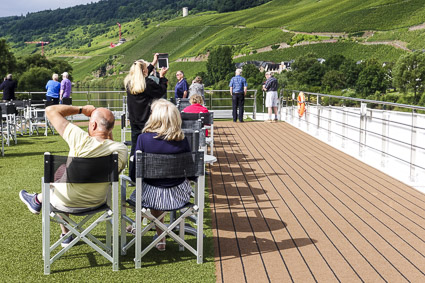 ABOVE: Passengers enjoy views from the Sun Deck as Emerald Star cruises on the Moselle from Koblenz to Bernkastel.
---
Other amenities
Sun Deck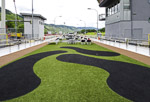 Emerald Star's Sun Deck covers most of the ship's topside. It's surfaced in artificial turf with a rubberized jogging and walking track around the perimeter.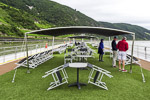 Tables and chairs are placed around the Sun Deck, and several areas are protected by awnings. (They're designed to be folded flat, along with the railings, whenever the ship passes under low bridges or lock gates.)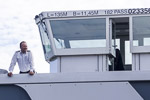 Another prominent feature is the captain's wheelhouse, which can be lowered hydraulically as needed. The captain or his assistant can also control the ship from remote consoles on both sides of the Sun Deck.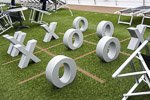 A three-hole putting green and games area are available whenever the Sun Deck is open.
Finally, a barbecue may be served on the Sun Deck during your cruise, depending on the itinerary and weather.
Pool

ABOVE: Emerald Star's pool is surrounded by tables and comfortable chairs. At night, the bottom of the pool rises above the water to create a cinema. (Click here and maximize your browser window for a larger panoramic image.)
The Pool is located aft, on Horizon Deck. It's surrounded by a glass-walled lounge area with chairs, tables, dressing rooms, and a bar with a self-service machine for coffee drinks and tea.
On some evenings, the pool is converted into a Cinema. (The pool floor rises to deck level. After the floor has been mopped dry, crew members set up chairs and lower a large movie screen. Popcorn is available, and you can order drinks from the bar.)
Fitness, wellness, and beauty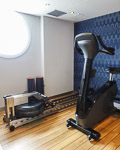 A small Gymasium on Vista Deck has fitness equipment, including an electronic exercise bike and a water-resistance rowing machine.
A Wellness Area (also on Vista Deck) offers facials, manicures, and massages.
Downstairs on Riviera Deck is the Hairdresser, where you can get men's and women's haircuts, head and neck massages, and other services.
Wi-Fi
Emerald Star has free Wi-Fi in public rooms and in the cabins. It worked well most of the time during our cruise, although the Internet connection was sometimes interrupted when the ship was inside a deep lock.
Bicycles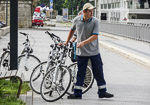 Emerald Waterways ships carry bicycles for use by passengers on shore. (These are free, and you'll find them near the end of the gangway in ports where they're available.)
Laundry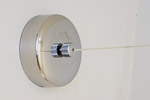 The ship's laundry will do your clothes within 48 hours. During our cruise, a special "laundry bag" promotion was priced at €24 (wash, iron, and fold) or €19 (wash and fold) per bag.
We did our own laundry in the bathroom sink, drying our clothes on our shower's retractable clothesline.
Next page: Shore excursions
---
---
---