Emerald Waterways cruise review:
Nuremberg-Trier
Page 3
Continued from page 2

ABOVE: Click here and maximize your browser window for a larger panoramic view of the historic wine town of Bernkastel, Germany, which Emerald Star visited on Day 6 of our cruise. (This photo was taken from Burg Landshut, a castle overlooking Bernkastel and the Moselle River.)
---
Cruise itinerary: Nuremberg - Trier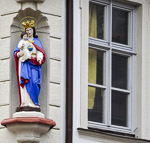 Our "Legends of the Moselle, Rhine, and Main" itinerary was an eight-day, seven-night cruise from Nuremberg to Trier. (In some years, the itinerary is also available in the opposite direction.)
A similar itinerary, minus the Moselle segment, is the "Rhine-Main Discovery" cruise, an eight-day voyage from Amsterdam to Nuremberg.
The following day-by-day itinerary includes links to the relevant sections of our cruise photo diary:
Day 1: Embarkation in Nuremberg, with departure in the early evening.

(Most passengers fly in to Nuremberg or Munich Airport; Emerald provides free transfers from the airport to the cruise port.)

Day 2: A morning visit to Bamberg, a UNESCO World Heritage City with a well-preserved old quarter, followed by cruising on the River Main in the afternoon.

Day 3: Cruising to Würzburg in the morning, then a guided tour to the Residenz (the palace once used by Würzburg's prince-bishops) and an optional wine-tasting in the historic Stadtlicher Hofkeller.

We also had free time for shopping or exploring in the city center before the ship's departure from the central waterfront.

Day 4: Arrival in Wertheim in the morning, with a bus transfer to the scenic riverside town of Miltenberg for a walking tour and free time.

In the afternoon, the ship picked us up in Miltenberg and we cruised toward the Rhine, which we reached in the early hours of the morning.

Day 5: Cruising past castles and other ships on the Rhine in the morning, with arrival in the city of Koblenz after lunch.

In the afternoon, we had a walking tour in Koblenz (including an excursion by aerial cable car to the Ehrenbreistein Fortress across the Rhine).

In the evening, Emerald Star cruised into the Moselle, where we enjoyed scenic views of hillside vineyards at dinner.




Day 6: Cruising on the Moselle in the morning, with arrival in the winemaking town of Bernkastel after lunch. We then had a walking tour and wine-tasting, with free time before and after dinner.

The ship stayed overnight in Bernkastel.

Day 7: Cruising from Bernkastel to Trier in the morning, followed by a bus transfer and walking tour in Trier during the afternoon. (Trier is Germany's oldest city and is famous for its Roman ruins.)

Day 8: Disembarkation in Trier, with a free transfer by coach to Frankfurt Airport.
Next page: Cabins and suites
---
---
---