Emerald Waterways cruise review:
Nuremberg-Trier
Page 8
Continued from page 7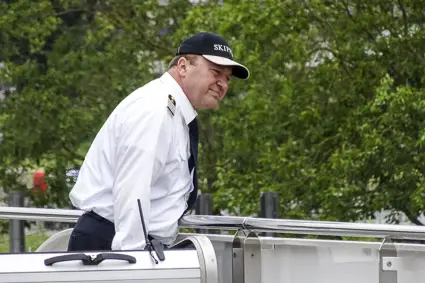 ABOVE: Captain Vasile Mariceanu steers Emerald Star into a lock on the Moselle River.
---
Officers and crew
Emerald Star has a crew of 47. On our cruise, the senior staff who had contact with passengers included:
Captain Vasile Mariceanu, who piloted Emerald Star from the wheelhouse and, when necessary, used remote consoles on either side of the Sun Deck to guide the ship into tight berths or narrow locks.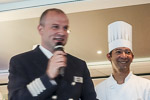 Albert Andrei, the efficient hotel director, who oversaw the ship's hospitality operations.
Pratish Devendra Pal Uppal, the front office manager, who was aided by a helpful reception staff.
Andrea Stoenescu, the cheerful and outgoing restaurant and bar manager.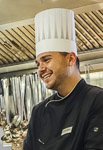 Teodor Petre, the executive chef (who was a regular presence in the ship's main restaurant and announced the day's dinner specials at the evening port talk).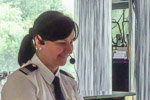 Cecilia Balint, the head housekeeper, who supervised a staff of room attendants, cleaners, and launderers.
And, last but definitely not least: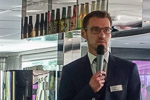 Balázs Varga, the cruise director, who gave the daily port talks, made announcements, organized shore excursions and entertainment, and handled transfers and other travel arrangements.
Other crew members: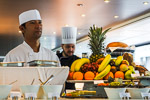 We found the kitchen, restaurant, bar, and housekeeping staff to be unfailingly polite. The bar and dining-room crew in particular were a tightly-knit team who seemed to enjoy their work.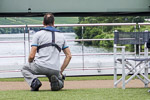 We didn't have much contact with the navigation and engine-room crew, but we did see the sailors at work throughout the cruise.
They kept the ship safe during lock operations, handled mooring lines, set up or took down the gangway, and unloaded bicycles for passengers to use in port.
About tipping:
Tipping isn't required or expected on Emerald Waterways--whether on the ship or during shore excursions. If you want to reward the crew with something extra (as we did), you can leave an envelope at the reception desk, but such gratuities are an optional--and unusual--exception to the rule.
Next page: Is Emerald Waterways right for you?
---
---
---