Emerald Waterways cruise review:
Nuremberg-Trier
Page 2
Continued from page 1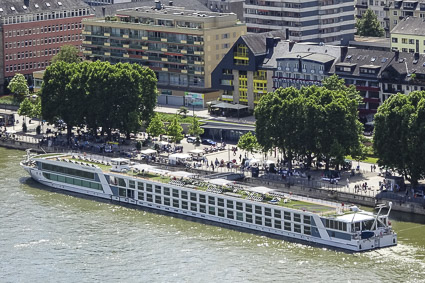 ABOVE: Emerald Star is moored in downtown Koblenz, where the Rhine meets the Moselle.
---
Emerald Star: the ship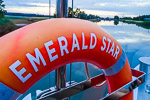 Emerald Star was the second of four identical "Star-Ships" to be built for Emerald Waterways. It has been cruising in Europe since 2014.
(A fifth Star-Ship, Emerald Destiny, will enter service in 2017, and two slightly smaller vessels are being custom-built to fit the locks of the Rhône and the Douro.)
Emerald Star has a capacity of 182 passengers in 92 staterooms and suites. Cabins and public rooms are located on three enclosed decks:
Horizon Deck (directly below the Sun Deck), which houses the main lounge, the reception area, the fancier suites, a number of panorama balcony suites, and a pool that converts into a cinema at night.

Vista Deck, where you'll find the restaurant, most of the ship's panorama balcony suites, a small spa, and a fitness room.

Riviera Deck, the lowermost deck, which has 20 staterooms and a hairdresser's shop.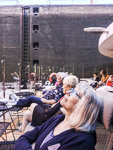 In addition to the enclosed decks, Emerald Star has a large Sun Deck (see Other Amenities) and an open-air foredeck called The Terrace which offers great views when cruising on the river and going through locks.
(The Terrace came in handy during the first half of our itinerary, when low bridges made it unsafe to use the Sun Deck while cruising.)
Emerald Star's design theme is contemporary, with large expanses of glass and the use of stainless steel, mirrors, and white surfaces to maximize light and a feeling of openness.
It has the vibe of a modern design hotel, and a spiffy one at that: We often saw crew members polishing the mirrored columns and other shiny surfaces, which were impeccably clean at all times.
Accessibility: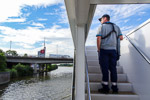 The Horizon, Vista, and Riviera Decks are served by an elevator, but the Sun Deck is accessible only by stairs.
Gangways are sometimes level and sometimes steep, depending on the port. Emerald Waterways states that, "under appropriate circumstances, guests are welcome to use collapsible wheelchairs on board."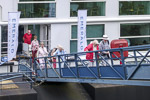 Emerald's ships have flat decks (unlike the split-level decks on many older river vessels), but it's worth remembering that, on a river cruise, your fare includes shore excursions.
If you can't manage steps on buses or aren't able to keep up with a "slow walking" tour group, you'll probably end up staying on the ship, and you won't get full value for your money.
Next page: Cruise itinerary
---
---
---